Double unit in Albany, bulk retail space at The Hub, Grey Lynn childcare centre attract spirited bidding.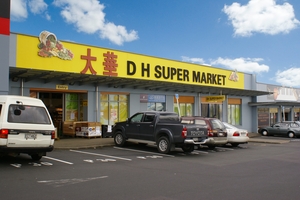 Well-located retail property and a childcare centre in Grey Lynn generated plenty of interest and bidding in Bayleys' latest Total Property auction in Auckland.
Seven properties were sold for close to $10 million. The highest price of $3.5 million was paid for two adjoining retail units totalling 826sq m occupied by an Asian supermarket, at 100 Don McKinnon Drive, Albany, which sold at a 7.9 per cent yield.
DH Supermarket has occupied the building, in the Northridge Plaza retail complex across the road from Westfield's Albany Mall, since 2006.
It has exercised a nine-year right of renewal early to take its lease through until 2024.
The property, with three-yearly rent increases based on the Consumer Price Index, was marketed by Damian Stephen and Michael Block of Bayleys North Shore Commercial, James Chan and Quinn Ngo of Bayleys Auckland introducing the buyer.
Some of the strongest bidding at the auction was for another bulk retail outlet, this one a 561sq m unit in The Hub in Ti Rakau Drive, East Tamaki.
Occupied by the Magness Benrow home appliance store, it sold for $1.74 million, more than $100,000 above the "on the market" price announced by auctioneer Richard Valintine. Magness Benrow renewed its lease for a further three years in June last year and the property was sold at a 7.9 per cent yield by Tony Chaudhary and Janak Darji of Bayleys Manukau, in conjunction with James Chan of Bayleys Auckland.
Also attracting spirited bidding at the auction was a restored, early 20th century 144sq m villa at 4 Sherwood Avenue, Grey Lynn, occupied by the Christopher Robin Childcare centre - it was the subject of multiple bids before selling under the hammer for $1.21 million at a 5.25 per cent yield on its six-year lease from 2008.
The lease has two-yearly rent reviews to CPI or market, whichever is greater, and comes with rights of renewal totalling a further 12 years.
Mark Pittaway of Bayleys Auckland, who marketed the property with daughter Rachael Pittaway, says the strong interest and excellent price also reflect the value of the 524sq m site, which has an outdoor playground behind the house.
He says land values in Grey Lynn have risen substantially since the centre was established on the back of surging demand for inner-city residential property.
The Pittaways joined forces with Simon Andrews and Katie Wu of Bayleys Manukau in the mortgagee sale, for $745,000 at a 9.1 per cent yield, of a 413sq m retail unit in the Highland Park shopping centre, off Pakuranga Rd, occupied by Highland Cafe and Bar on a short-term lease.
A 110sq m unit on the ground level of the Metropolis apartment building at 42 High St in Auckland's CBD sold for $1.25 million at an 8.2 per cent yield through Richard Yang and Nicolas Ching of Bayleys Auckland.
It is occupied by the Alp Ice cafe, restaurant and bar on a four-year lease from May 2009 with two four-year rights of renewal.
Over in West Auckland, a two-level building on a 196sq m site at 376 Great North Rd, Henderson, sold for $590,000 at an 8.5 per cent yield through Michael Block and Damian Stephen of Bayleys North Shore Commercial. The ground floor is occupied by a cafe on a three-year lease from June 2011 at $50,000 per annum, with vacant office space upstairs
A 361sq m unit at 701M Great South Rd, Penrose, with warehouse, mezzanine, showroom and office space, sold with vacant possession for $535,000 through James Hill and James Valintine of Bayleys Auckland.