Proportionate ownership scheme projects 9.22 per cent for investors in new West Auckland store.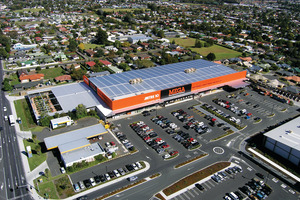 Property syndication specialist Oyster Group is promoting its second proportionate ownership scheme involving a Mitre 10 store this year, projecting an initial annual return of 9.22 per cent for investors.
Oyster is offering 140 interests of $100,000 each in the DIY retailer's 14,000sq m flagship West Auckland MEGA centre on a 2.7677ha site at 186 Lincoln Rd, Henderson.
Oyster Group managing director Mark Schiele says a very strong investor response to a proportionate ownership scheme involving a Mitre 10 MEGA store in Pukekohe, which was fully subscribed a month ahead of its closing date, was partly behind the decision to follow this with another Mitre 10 offering.
"There is no doubt that Mitre 10 has a very strong business profile which investors identify with and the Lincoln Rd store is one of their top three New Zealand outlets in terms of turnover. But a major attraction with this property is also its very high-profile location on one of Auckland's busiest arterial roads, next door to New Zealand's largest Pak'nSave supermarket and its prominent position in Henderson's premier bulk retail precinct."
In a sale negotiated by Brian Caldwell and Nick Wevers of Bayleys North Shore Commercial, Oyster Group will pay $24,750,000 to acquire the property at an initial yield of 7.9 per cent. Investors' equity will fund $14 million of the purchase price with the balance coming from a bank loan.
Mitre 10 (New Zealand) will continue to occupy the building under its existing 15-year lease from 2004, with two rights of renewal of five years each.
Oyster Group director Mark Winter, who is marketing the proportionate property interests, says the lease contains the same built-in rental growth that was a significant factor in attracting investors to the Mitre 10 Pukekohe offering.
There are three-yearly compounding rent increases based on the increase in the Consumer Price Index, capped at 9 per cent growth every three years, plus reviews to market with the next one scheduled for April 2014. Under the terms of the net lease, Mitre 10 is also responsible for meeting all of the building's operating expenses as well as interior maintenance.
The Henderson Mitre 10 MEGA store was the largest bulk retail outlet of its kind in Australasia when it was completed eight years ago and comprises 8667sq m of general hardware retail space, a 2467sq m garden centre and cafe, a 1036sq m timer yard plus offices and amenities. Established in 1974 and wholly New Zealand owned and operated, Mitre 10 is the country's largest hardware retailer with around 100 stores from Kaitaia to Invercargill.
The MEGA store network is undergoing rapid expansion with an average of six stores a year built or planned over the past three years. Wevers says recent figures released by Paymark, which processes about 75 per cent of all electronic transactions in New Zealand, show that DIY hardware outlets are outperforming other sectors of the retail market.
Hardware store transactions were up 9.7 per cent in the year to the end of August, compared with an overall increase of 5.5 per cent in retail transactions processed by Paymark.
"It seems that the tighter economic conditions of the past few years have prompted an increase in DIY activity along with the momentum generated by reality TV shows such as The Block," says Wevers.
"And looking ahead, the increase in building activity that is starting to become apparent as house construction finally picks up again should benefit the hardware retail sector."
The Lincoln Rd Mitre 10 MEGA store shares a massive site with Pak'nSave and a Z petrol station, with customer car parking for 282 vehicles
Winter says the property has very good exposure to Lincoln Rd, a four-lane major arterial route providing access to and from the surrounding suburbs to the Lincoln Rd interchange of the SH16 Northwestern Motorway.
He says the reported heavy traffic flows of 40,000 cars a day on average along Lincoln Rd, in conjunction with a sizeable and growing surrounding residential population, has prompted significant retail and commercial office development along Lincoln Rd. Other large format retailers on the road include Bunnings, The Warehouse, Noel Leeming and Spotlight.
Winter says the property also has good exposure to Universal Drive, another major arterial to the south, and the carpark it shares with Pak'nSave can also be accessed off this road.
Caldwell says retail properties in the Lincoln Rd area have proved particularly popular with investors, reflected in Bayleys' $30 million sale of all 22 unit-titled shops auctioned three years ago in the Lincoln North Shopping Centre, on the corner of Lincoln Rd and Universal Drive. Tenants included a mixture of banks, national and international retailers and food outlets, with 15 properties selling at yields of less than 7 per cent.
The Lincoln Rd Mitre 10 property and the proportionate property title scheme will be managed by Oyster Management Ltd, which manages a $500 million portfolio of properties from Auckland to Dunedin.
Schiele says the company has been involved in more than 20 property syndications and it now has in excess of 500 clients, a good number of whom are investors in multiple properties managed under proportionate ownership schemes.