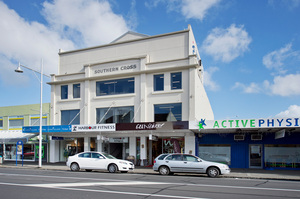 Ellerslie's character Southern Cross Building, constructed in 1925 as the Auckland suburb's Southern Cross Picture Theatre, has been placed on the market for sale by auction after a major makeover.
The freehold building, on the suburb's main shopping strip at 87 Main Hwy, is being marketed for sale by Charlie Oscroft and John Green of Colliers International, who say it represents "a high-profile, multi tenanted commercial property investment".
The building is featured in Colliers International's latest National Portfolio magazine and is due to go under the hammer at 11am on October 31 at 151 Queen St, Auckland, unless it sells before the auction day.
Following its closure as a cinema, the building served as squash courts before being bought in 2009 by Broadway Property Group, the current owner, which completed significant seismic upgrading and restoration work in the middle of last year.
Adrian Hughes, development manager at Broadway Property Group, says the building was in a "tired, run-down state" before the renovations.
"The building had been used as squash courts with ground floor retail since 1970, however the popularity of the squash courts declined and the building fell into disrepair.
"We saw this as an opportunity to restore the building's original character using urban design principles, and to strengthen it and upgrade it with modern, efficient systems."
Hughes says the refurbishment involved the entire building being completely gutted and rebuilt to current seismic standards.
The work included installing an extra one and a half floors within the structure, reinforcing the foundations and adding a concrete lift shaft that acts as the building's structural core.
Hughes says an engineer's report shows the building now complies with over 85 per cent of current earthquake code.
The building was completely re-wired with new lighting, power points, switches and separate metering for each tenancy, including its well known Tui billboard overlooking State Highway 1.
"We also installed new ventilation throughout and air-conditioning where required, as well as a complete repaint inside and out."
Four tenancies, occupied by Glengarry, Long Island Fashion, The Fitness Club, previously Harbour Fitness, and the Tui billboard, generate net annual rental income of $398,314.
The tenants, which are well-known national and local names, had all signed up to take space in the building before the renovation was complete, Hughes says.
Glengarry Hancocks Ltd occupies one of the two ground floor retail tenancies - 185sq m space on an eight-year lease dating from September 2011 with rights of renewal providing the option to extend for up to six further years.
The other ground floor unit, with a floor area of 168sq m, is leased to Long Island Fashion for six years dating from July 2011, with the right to renew for a further four-year term.
The upper floors are exclusively occupied by The Fitness Club, on a 12-year lease dating from March 2011, with the right to renew for a further six years. The Tui billboard has resource consent and is registered with Auckland City Council. It has a six-year lease dating from February 2010, with the right to renew for a further six years.