Rare opportunity to purchase one of the city's most prominent buildings.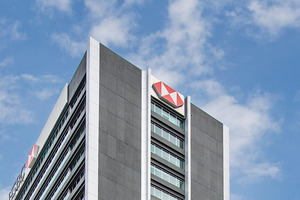 The landmark 21-level HSBC House office tower at No 1 Queen St is being marketed for sale as "a once in a generation-type acquisition for astute investors wanting a commanding presence on the doorstep of Auckland's CBD".
"This sale represents a rare opportunity to purchase one of the city's most prominent buildings that has only had two owners since its completion," says Nick Hargreaves, managing director of Jones Lang LaSalle, who is selling the building with senior sales broker John Binning via expression of interest closing on November 12.
No 1 Queen Street comprises 17 levels of office space, two levels of car parking, ground level retail shops and a basement car park area.
It has a net lettable area of about 19,358sq m of office space with floor plates between 1058sq m and 1094sq m. The ground floor comprises 1160sq m of retail space and a space on the Queen St frontage leased to a cafe kiosk.
The rectangular office floors occupy levels three to 19 and have part height glazing of about one metre from the floor on all faces with suspended ceilings. The offices are fitted with recessed fluorescent lighting and sprinkler system.
"The upper floors have unbeatable views over the harbour," Hargreaves says.
The retail tenancies on the ground floor have been divided into 10 tenancies, with national operators including Movenpick, Honey NZ and Mataiahn. In addition there is a kiosk on the Queen St frontage leased to a cafe operator.
The building has a total of 127 car park spaces with 18 uncovered clear spaces and four stacked parks on top of the podium level on the corner of Lower Albert St and Quay St. The covered car park levels feature fluorescent lighting, sprinklers, air ventilation and security cameras.
Hargreaves says a contract also allows for the use of car park spaces at the Downtown Carpark.
"With fully leased net operating income estimated at $8.1 million, there is potential cash flow upside through structured rental increases and the filling of pockets of vacant space," Hargreaves says.
Tenants include a number of well-known corporate and government occupiers including HSBC which has signage rights, Rothbury Insurance and the New Zealand Transport Agency (NZTA).
The weighted average lease term (WALT) by net lettable area is five years.
The building sits on 2322sq m of land zoned SMA 2 which is the Harbours Edge Strategic Management Area.
The zoning allows for a wide range of activities including: maritime, entertainment, cultural, recreational, retail, tourist, office and residential activities, and for specialist activities which require a harbour location.
Hargreaves says the building's location is second to none overlooking the Waitemata Harbour to the north and Queen Elizabeth II Square to the east. "It is positioned within the hub of Auckland's premier office towers and seconds away from Auckland's main public transport station. This is the type of CBD investment that domestic and offshore listed and unlisted property companies, and high-net-worth private investors, should view as a flagship asset."
The building was developed by AMP Society after buying the freehold from the Auckland Harbour Board in the late 1960s and was completed in 1972.
"An Initial Evaluation Process (IEP) conducted on behalf of the current owners to assess its seismic strength in June this year has concluded the building is at 242 per cent of the current building code," Hargreaves says.
"After No 1 Queen St changed ownership to No 1 Queen Limited in 1996, it underwent a significant upgrade of the office areas in 1998. A more recent refurbishment included a total overhaul of the lifts."
Binning says investors will be attracted to the property for its style, location, configuration and add-value potential.
"It is extremely unlikely that such an impressive high rise commercial office building will be repeated any time soon in Auckland's CBD. No 1 Queen St was built on a long rectangular site shape, which is very unique in Auckland's CBD especially given its location. The site has almost 25 metres of frontage to both Lower Albert and Queen Sts and 94 metres of frontage to Quay St."
"There is also no specific maximum height for the building, which was built to maximise its potential around rules and regulations applying in relation to view protection/sunlight admission controls to Queen Elizabeth Square," Binning says.
"However, on the western side of the building, which provides for 22 car parks, is a podium which could support the development of a residential tower with uninterrupted water views from the majority of the apartments. Resource consent was granted on May 24, 2010, for a 22 storey residential apartment tower above the open car park podium which is valid for five years.
"The current plans are for a mixture of one level and two level high-end apartments."
Binning says the owners are selling to reallocate capital to development projects they are commencing.