6 Clouston Street, Glendowie.
SIZE:
Land 855sq m, house 332sq m.
PRICE INDICATION:
Similar properties in the Glendowie locality have sold upwards of $2 million; auction October3.
INSPECT:
Sat/Sun/Wed 1-1.45pm.
SCHOOL ZONES:
Churchill Park Primary & Intermediate, Glendowie College.
CONTACT:
Bob Gordon, Barfoot & Thompson, ph 027 475 9025.
FEATURES:
Beautifully detailed, well- constructed family home with amazing flow to level, north-facing lawn and landscaped garden. Sought-after, tightly held location.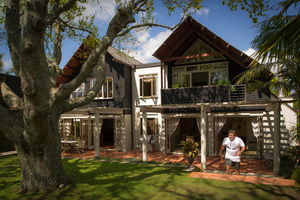 Post-war photos of Glendowie show a smattering of modest veterans' houses dotted along the cliffs and bays. Most of those 1950s bungalows have gone, but in 1990 Sabra and Bryan Davies were lucky enough to buy one from the original owner.
"I grew up around here," says Bryan. "And we wanted somewhere flat and sunny for the family."
For five years they lived in the little bungalow with toddler Scott, soon joined by baby sister Alexandra. Then they worked with architect Michael Thomson (then at Bowes Clifford Thomson, now Architectus). "We wanted something timeless," explains Sabra. "Michael had worked in Thailand so it definitely had a Thai influence." That tropical flavour appears in the steeply pitched roof forms, detailed with timber-faced eaves and struts. "But it also reminds Italian friends of home with the tiled floors and timber pergolas," says Sabra.
They were adamant about sturdy materials to last the distance. "We didn't want a chilly-bin house," they say.
Michael gave them solid concrete walls, with cedar cladding, timber joinery and roof shingles. Sabra soaked the cedar in creosote to give it a Kiwi bach aesthetic.
Clever planning means the house suited all phases of family life. Living metres from the sea and spending most weekends on their boat, family living focused on the sheltered backyard. "We built for privacy, although it's been a great house for entertaining," says Bryan. Two of the three living areas open to north-facing patios under the heavy timber pergolas. Terraced lawns wrap around a massive oak tree, sheltered by nikau and hedges, subtly lit for night-time drama.
The terracotta tile floor of the family area absorbs winter sun. "We never need heating," says Sabra, "and we're shaded in summer."
The classic kitchen looks new, with tons of storage and stainless double ovens. It sits next to the carpeted formal living and dining room. "This is our winter spot, in front of the fire," says Sabra.
Skylights admit afternoon sun, while wooden louvres above the walls of French doors in both areas are tropical ventilation tricks. Sabra had a hand in oiling the timber beams and cork ceilings in the family room and specified whitewashed beams in the formal area.
A tiled hall links the laundry and drying yard, entrance and living rooms, around to the double garage. The guest bath has a shower so kids can hose off after sports or sailing. It also serves a double bedroom that has its own sunny courtyard.
The bonus third living room is perched above the garage, with a sheltered deck and a brilliant view of the bay. "I come up here to read," says Sabra. "It's great having places for people to retreat to, especially with teenagers." They thought ahead and plumbed for a kitchenette.
Upstairs, clever storage details work for family life, like a laundry chute near the kids' bathroom. Off a louvre-shuttered hall, three double bedrooms with fitted wardrobes meet changing needs - kids, guests or office.
The master suite feels like a tropical retreat with a steeply pitched ceiling and sheltered north-facing deck among the trees. The smoky tile and timber and granite vanities in the bathroom still look fresh, alongside the generous walk-in wardrobe.
The family have loved the location and neighbours as well. A 15-minute drive to Westhaven for the boat, and Bryan could collect the family from the bay below the house. With an empty nest, another project, and the lure of the sea, Bryan and Sabra are leaving this relaxed lifestyle for another family to enjoy.