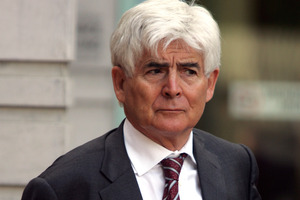 Barry Hart. Photo / APN
A farmer who bought land from disgraced lawyer Barry Hart at a mortgagee sale is relieved to be finally allowed access to the property.
Former Rodney deputy mayor David Steele, 75, and his wife Joy, 71, bought the 40ha block for $800,000 on August 9.
Steele said Hart moved his stock on to the Waimauku block the same day and the couple were prevented access.
Jamie Lockett, who has a string of convictions, parked his car on the property at the back of Hart's home for three days to keep the Steeles off the land, though he would not say who he was acting for. The couple were told they would need a judge's ruling on who owned the land.
This week, Justice Geoffrey Venning ruled Hart must vacate immediately, remove all livestock and not re-enter the property.
"It's a relief to actually get on to our property," Steele said. "Why should he put people through all this? He has always tended to be very tough on us. We have been in this area our whole lives and at one stage he said to me he was going to break me and put me off this area. He was trying to be Mr Big."
Hart's $26-million property portfolio was sold in a mortgagee sale, debt collectors seized luxury cars and a company he owned was put into liquidation over an unpaid tax bill. He owed his bank $30 million and was being charged $200,000 a month in interest. The Lawyers and Conveyancers Disciplinary Tribunal found Hart guilty of three charges of professional misconduct in July and this week struck him off for overcharging clients. Hart did not return calls.