103A Shelley Beach Rd, St Mary's Bay.
SIZE:
Land share of 1315sq m, house 565sq m.
PRICE INDICATION:
Interest expected above mid-$2 million. Tender closes September 27 at 4pm.
INSPECT:
Phone for viewing times.
SCHOOL ZONES:
Ponsonby Primary, Ponsonby Intermediate, St Marys College, Auckland Girls' Grammar.
CONTACT:
Brian or Jan Parish, Barfoot & Thompson, ph 021 924 858.
FEATURES:
Gracious five-bedroom family home with three living areas plus an apartment on the upper level for long- staying guests or teenagers. Swimming pool and four-car garaging.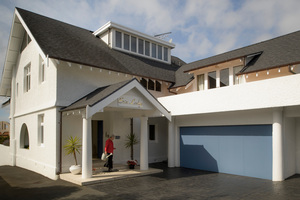 Boats, boats and more boats are what you see from David and Beverley Oliver's expansive St Marys Bay home.
There are also views of the harbour bridge, Rangitoto Island, and parts of the inner Waitemata Harbour, including the Chelsea Sugar Refinery - depending on which one of the home's three levels you happen to be on.
"If anyone asks us which one is our boat, we say they all are," jokes David.
The views of Westhaven immediately captivated David and Beverley when they saw this property 26 years ago while searching for a house near the city so David wouldn't have to commute to work from their previous home in Chatswood on the North Shore.
The 1926 brick-and-concrete house, first built as a doctor's residence and later used as a boarding house then a rest home, had been extensively remodelled in 1986 by the developer who owned it before the Oliver family.
Remaining features of the original house include a bay window and beautiful ceilings on the ground level. The 1986 makeover, as well as high-quality renovations done by the Olivers, have created a well-planned, modern home with large, multiple spaces that are user-friendly rather than imposing.
"The number of rooms and overall spaciousness really appealed to us. This is a great house for entertaining and we have had a few parties here, I can tell you," says David.
The house sits at the end of a right-of-way with two double garages, including an internal-access one, to one side of its own large section of driveway, which has space for even more parking.
A huge entrance lobby on the ground level leads through to two large lounges which are divided by floor-to-ceiling glass-panelled doors that fold back to create a mini ballroom-sized space for entertaining large crowds.
These north-facing front rooms look out across Westhaven Marina and open out to a patio that leads down to a semi-circular swimming pool whose shape complements curved windows in parts of the house.
This level includes a large new kitchen installed six years ago by the Olivers when they also renovated two of the home's three bathrooms, including their large en suite, and re-carpeted the whole house.
The kitchen - which includes a butler's pantry and conservatory-style, east-facing breakfast area - is just a few metres from the internal-access garage and next to a large laundry leading to a utility area that includes the clothes line and a vegetable garden.
Wide stairs from the lobby lead up to three bedrooms on the middle level, including the huge master bedroom, en suite and walk-in wardrobe, and a bedroom with room for a double bed and two singles. Both these bedrooms open on to a curved north-facing deck. At the other end of the landing is a third large bedroom which doubles as an office, a bathroom and large family room with a home-theatre system including a large roll-down screen.
Originally built as a billiard room, this space has a concrete floor beneath its carpet and a gas fire. It opens on to a west-facing balcony that looks out to the Chelsea Sugar Refinery and has steps leading down to the utility area.
Up more stairs, on the third level is an apartment-style space with a large bedroom, bathroom, kitchenette and dining space.
The home's features include a central vacuuming system, underfloor gas heating and plenty of storage including large wardrobes and a walk-in storage room on the ground level.
The Olivers are ready to move into a smaller, lock-up and leave home.
"But we love this area, so if something came up next door, we'd grab it."