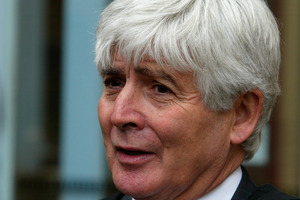 High profile lawyer Barry Hart has been found guilty of professional misconduct. Photo / File
Auckland lawyer Barry Hart has a nervous wait to find out whether he will be struck off.
The 71-year-old will wait at least one week before learning his punishment after a Lawyers and Conveyancers Disciplinary Tribunal hearing today.
Mr Hart had earlier been found guilty of professional misconduct by the tribunal.
Paul Collins, for the Law Society Standards Committee, asked the tribunal to strike off Mr Hart as a lawyer.
He said the case for Mr Hart to be removed was "compelling" as he showed a "continuing theme of disdain for his professional responsibilities".
"Anything less would be inadequate".
Mr Hart's lawyer, Greg King, had earlier opposed the application to have the veteran barrister struck off.
He urged that a "lesser penalty will suffice", such as a fine and paying costs.
"Striking off is the ultimate penalty, the ultimate fall from grace for a man who has served as a lawyer for 46 years.
"The public nature of his fall from grace means that despite everything he has done, he will always be seen as the lawyer who overcharged. He will always have that stain."
Judge Dale Clarkson, chair of the tribunal, asked for further submissions to be filed from both parties within seven days.
She said the tribunal would release its decision soon after.
Mr Hart was last month found guilty of three charges of professional misconduct by the Lawyers and Conveyancers Disciplinary Tribunal.
He charged a client's family $1000 an hour despite much of the preparation work being done by a junior lawyer who had been practising for only two months. On one occasion, the fees were charged for "waiting time in court" and totalled $35,000.
During a two-day hearing last month, the tribunal heard from a Queen's Counsel with more than 35 years' experience in criminal law.
The lawyer said that even at Mr Hart's "very high" hourly rate of $1000, his work on a case for one family could have been done for between $15,000 and $16,000.
The tribunal, chaired by Judge Dale Clarkson, found Mr Hart's fee was between 95 per cent and 107 per cent above a "reasonable fee".
"We consider this to be gross overcharging," its report said.