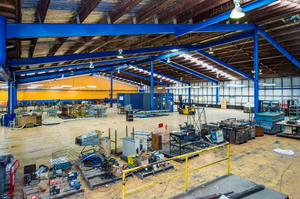 A modern warehouse in the heart of Onehunga, with a large wing tenanted and a smaller one vacant, is being pitched at investors and owner-occupiers.
The high-profile property on the corner of Alfred St and Neilson St is being marketed by David Gubb and James Hill of Bayleys Auckland and will go up for auction on September 26 as part of Bayleys' latest Total Property portfolio.
The property is owned by All Metals, associated with Commercial Metals, which bought it several years ago with the intention of moving in. However, the company decided to consolidate its operation on its existing site.
The 6167sq m building has 5553sqm of warehouse and bulk storage space and 614sq m of air-conditioned offices at the front. The vacant space has 1450sq m of high-stud warehousing and 223sq m of office space.
"A new adjoining building was added several years ago and this is the one that is vacant," Gubb says.
"It would certainly suit an owner-occupier who wanted to move in and expand into the rest of the space in the future. Alternatively, an investor who purchased the property could add immediate value by leasing this vacant space." The original main warehouse area has undergone a major refurbishment and, with the extension, provides a clean and tidy warehousing or manufacturing area. The original warehouse is occupied by TIC (Reverse Logistics) which provides some of Australasia's largest retail chains, with management services forinventory returns and asset recovery.
The lease, which expires next August, produces net annual rental of $305,000.
There is a right to renew the lease for a further four years, at which stage the rent would rise to $345,000. During the renewed term either the landlord or the tenant can terminate the lease with nine months' notice which provides plenty of flexibility and options for the new owner. The property is on 1.03ha of land in two titles, one a 5264sq m freehold site, the other 5034sq m of leasehold land. To the front is a large sealed yard with a wide road frontage to Neilson St, which is a main arterial linking the southern motorway with the Southwestern Motorway and the airport. This area would be ideally suited for a display yard or as additional storage area, says Hill.
Gubb says there has been a resurgence of interest in commercial and industrial space from owner-occupiers because of the low interest rate climate. "We've seen a noticeable increase in the number of companies looking to buy rather than lease space and it is not easy to find larger warehouses like this one in a popular location like Onehunga."