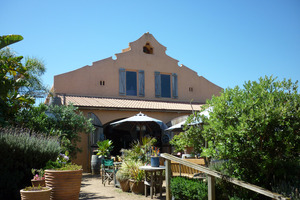 The Waiheke property has plenty of potential.
Saratoga Estate, incorporating a stand-alone winery, restaurant and function venue on Waiheke Island in Auckland's Hauraki Gulf is for sale through Bayleys Waiheke in a campaign closing on August 30.
Pat Regan, Waiheke country and lifestyle agent for Bayleys, believes Saratoga is the only lifestyle operation of its kind in New Zealand to contain a winery, brewery, and distillery at one location.
"Neighbouring [Onetangi Valley] vineyards like Stonyridge, Mudbrick and Te Motu have achieved world status and, although wines from Saratoga vineyard are as yet to achieve such international accolades, the terrior and the climate suggest that with careful management these will come in time," Regan says.
The 8.4ha property is in two titles with 6ha planted with cabernet sauvignon, merlot, franc, syrah, malbec, pinot gris, chardonnay and sauvignon blanc.
Located on Onetangi Rd, about 1km from Onetangi Beach, the estate is 6km from Oneroa and the Matiatia ferry to Auckland.
The boundary of Saratoga Estate's land overlooks the site planned for a luxury five-star hotel resort.
Across the road from the Waiheke Country Club Golf Course, the vineyard includes a modest three-bedroom home, three-bedroom vineyard worker's cottage, winery and barrel room, al fresco restaurant, implement sheds, shelterbelts, a water dam, bore and irrigation.
Olive trees yield enough oil to more than satisfy the restaurant's needs.
Regan says the offering includes a complete brewing operation, and a spirits distilling plant.
Machinery and equipment includes several hydraulic presses, a de-stemming unit, six fermentation tanks, and 12 stainless steel storage tanks. The brewery kit features a 1000-litre kettle, mash tun, and conditioning tanks.
The distillery is a triple-head unit and comes with its own fermenters and storage tanks. Irrigation for the vines, and for the brewing process, is drawn from a bore within Saratoga's boundaries.
The 40-seat cafe has a strong past trading record as a function venue. A 30sq m tasting room and retail sales outlet, open to the public for takeaway purchases, adjoin the cafe and winery.
"The hospitality side of Saratoga Estate's business allowed for the final stage of a totally integrated supply chain where a large proportion of the Saratoga Estate-branded wine and beer were sold," Regan says. "Regrettably, the hospitality side of the company has not operated for the past 12 months. However, this gives substantial scope for a new owner to stamp their own brand on re-building that arm of the business. The brewery gained a strong local following on Waiheke and was a favourite off-premise outlet for those wanting a beer outside the flavour realms of the more commercial bigger labels."
Saratoga Estate's wines were served at the numerous wedding, anniversary, birthday, and corporate functions held on the premises with food prepared in the cafe kitchen. "This was a one-stop-location business with various revenue streams under one roof."
Regan says Saratoga Estate's business, as with most Waiheke hospitality operations, drew in its biggest revenues over summer but its scale as a function venue meant that turnover was sustained throughout the rest of the year.
The land, buildings, vine plantings and equipment have a rateable value of $3.65 million.
"Ill health has motivated Saratoga Estate's owners to place the property and plant up for sale," says Regan.
"Factoring-in a standard due diligence process, the opportunity is there for a prospective new owner to be in place at Saratoga Estate midway through spring in time to capitalise on the frantic Christmas and New Year trading periods."