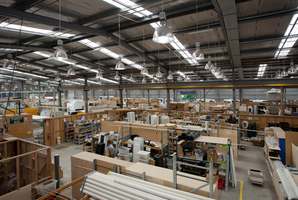 Tourism Holding Limited's former big motorhome assembly plant, just outside Hamilton, is for sale or lease through Colliers International.
The agency's brokers, Mark Brunton, Alan Pracy and Paul Jarvie and seeking expressions of interest for the complex at 32 Kaimiro St, Te Rapa.
The offer comes following THL and Kea Manufacturing NZ's announcement in February of merging their recreational vehicle and campervan manufacturing units into a stand-alone business.
"There are fewer than 10 buildings of this size in Hamilton, and this is the only one that is available for occupation at the moment," Brunton says. "Throughout the whole of Hamilton and the Waikato, outside the dairy industry, there are very few industrial buildings with over 5000sq m of warehouse and/or manufacturing space. This alone makes 32 Kaimiro St a rarity, and even more so being within the popular Te Rapa industrial area."
Pracy cites the chance of owning or leasing a quality, ready-to-occupy facility at well-below-replacement cost as a further drawcard.
"Because design-build projects are costly, and incur a significant time lag until completion, we expect this property will appeal to manufacturing or logistics operators seeking a turnkey solution in a prime location," he says.
The freehold ownership aspect of the property also constitutes a compelling proposition for investors to buy it and install a tenant, Jarvie says.
"With an estimated market rental of over $650,000 a year, we expect to receive inquiries from investors keen to take advantage of low interest rates and increase their commercial property exposure by buying a modern and well-located asset."
The building has 8060sq m of floor area including canopies. This is made up of a 6735sq m warehouse with a 7m stud height at the portal knee; offices and amenity areas of 806sq m across two levels; and canopies of 519sq m.
"Large-scale facilities like this, which are well presented and in a good location, don't become available very often - we would handle a building like this in Hamilton only once every seven years or so," says Brunton, who expects the complex will appeal to owner-occupiers as well as tenants in a variety of manufacturing or other industrial sectors based in Waikato and beyond.
Pracy says Te Rapa superseded Frankton some time ago as Hamilton's premier industrial location.
"This has been driven by a number of factors including Te Rapa being closer to Auckland, its having larger site sizes and a spate of new developments which have attracted new and growing businesses to the area."
The property is at the northern end of Kaimiro St, a cul-de-sac off Maui St - which is a main road exiting at both ends to State Highway 1.
Pracy says the opening of The Base and Te Awa shopping centres is drawing more and more businesses to Te Rapa. "Completion of several roading projects, such as the Hamilton ring road expected to be completed in 2014, can also be expected to improve convenience and access for Te Rapa industrial users."
He says Hamilton also offers several advantages over Auckland for industrial occupiers.
"Land is more available and is very competitively priced here compared with South Auckland. Transportation infrastructure improvements, like the State Highway 1 Waikato Expressway, have provided much easier access to the Auckland area and Ports of Auckland, and Hamilton has a less costly workforce.
"This is a strong set of factors which should continue to underpin industrial activity here."