4 Waitoa Street, Parnell
SIZE:
Land (approx) 667sq m, house (approx) 300sq m.
PRICE INDICATION:
Interest expected above $3 million. Tender closes 4pm on September 6 (unless sold prior).
INSPECT:
Sun/Wed 12-12.45pm.
SCHOOL ZONES:
Parnell School, Auckland Grammar, Epsom Girls' Grammar.
CONTACT:
Karen Moore and Martin Dobson, Kellands, ph 027 279 5983 (Karen) and 021 376 952 (Martin).
FEATURES:
Renovated home views of Hobson Bay/Orakei Basin, outdoor-living areas and heated pool. Master and guest suites, wine cellar, and kitchen with scullery. *1 gated off-street park.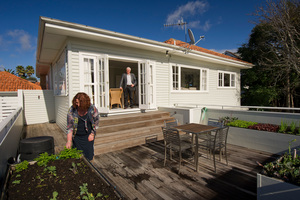 The home belonging to the owners of long-running speciality food business Sabato initially looks like a single course but turns out to be the complete degustation.
Jacqui and Philip Dixon's home of 25 years looks smart and secure behind its front wall on a nicely tended Parnell street looking out across Hobson Bay and Orakei Basin. But anyone doing a "drive-by" could mistakenly think it's modestly sized when, in fact, there's an expansive 300sq m or so of fully renovated house spread over three levels.
As Philip says, "It just keeps on giving."
Just before the 80s stockmarket crash, the couple wanted to graduate from a little Ellerslie townhouse to a house but found upmarket suburbs teemed with properties expensively made-over by speculators. Jacqui knew Parnell's entertainment scene but wasn't familiar with its quieter streets, thinking, "Oh, what a pretty street" when she saw Grammar-zoned Waitoa St.
Back then this home fitted the Dixons' price bracket because it hadn't been remodelled and its lower level comprised a granny flat with separate access.
The couple realised there was potential when they saw the home's upper level opens at the rear to a beautifully light-filled area with tranquil views over trees and the water. Jacqui says, "We listened to the advice of someone who said to us, 'Don't worry what the house is like, just get the location right because you can do anything to the house'."
The changing needs of a growing family prompted their three big renovations. Philip jokes, "We came here with no kids and are leaving with no kids, but in between times our two have turned 20 and nearly 24."
Sabato was born in the home when gourmet foods, such as quality olives, pasta and Italian confectionery, were rare in this country. Former nurse Jacqui and finance man Philip realised the speciality foods they'd buy for themselves when visiting Australia could sustain a business if imported here. They ran Sabato from the property for a few years before moving the business into their long-held Mt Eden premises.
The couple understand the timber home originated in the 1920s or 1930s. An automated gate conceals a single garage fronted by secure off-street parking. An internal sandblasted window by artist Paul Hartigan introduces extra light from the open-plan rear into the wide entrance hall. A beautifully patterned sandstone surround highlights the living room's fireplace. The children had bedrooms on this level so there's a family bathroom with separate toilet.
The Dixons extended the rear of this level so the airy, open-plan kitchen-family room-dining spans the width of the house. Here, there's a deck complete with potager gardens. It's a splendid space for entertaining, aided by the kitchen's chunky terrazzo benchtops. The bedroom-size scullery is big enough to house delicious provisions and lovely crockery.
The couple's work can be very social so they asked designers (including Prudence Lane and Donna Hoyle) for decor emphasising the home's sense of retreat.
This ambience is particularly evident in the spacious master suite one level down. It opens to a large patio with swivelling umbrella and heated concrete table (included in the sale). Behind the bedroom's partial-wall headboard, a corridor contains a kitchenette and storage trove, opening to a polished bathroom and dressing room. The ground floor hall also accesses a wine cellar, a study overlooking the heated pool and a splendidly outfitted laundry.
Steps from the patio lead to the lower ground floor's self-contained guest suite. It opens to the third outdoor living area; a patio edged by a native garden, with a cedar sauna to one side.
Now both children have left home, the house is larger than the couple needs.