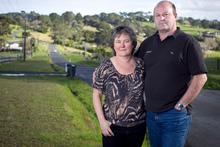 Andrew Segar doubts many Aucklanders can top a rates increase of 225 per cent for his semi-rural property at Long Bay on the North Shore.
The rates on his property down the single-lane Vaughans Rd - with no footpaths, no street lights, no sewerage and no water - have shot up from $4369.90 to $14,180.63.
"A 225 per cent increase is just craziness. We haven't added any value to the property in the 12 years we have lived here," said the software developer, who lives on the 4000sq m property with his wife and two children.
"Maybe we can get a footpath so our kids don't get run over walking down the one-lane road."
The reason for the increase is the move from land value used by the former North Shore City Council to a single rating system based on capital (improved) value.
The land value of his property was $950,000, but the capital value is $4.7 million - made up of $950,000 for the land and $3.75 million for his 830sq m house.
Mr Segar's rates are rising by the transition cap of 10 per cent a year, or $436.99 this year.
But he wonders what will happen when the three-year transition cap comes off in 2015 and leaves him paying the remainder in one hit.
Mr Segar said people who lived in expensive houses in areas where land value was used to set rates were being "crucified" under capital value, which was imposed on the Auckland Council in legislation by the Government.
The former North Shore, Waitakere, Rodney and Papakura councils used land value to set rates.
Council chief finance officer Andrew McKenzie yesterday acknowledged the move from land to capital value would result in some big rates increases.
"But these increases are simply bringing properties in those parts of town into line with other parts of the region that have always been rated on capital value, and paid accordingly.
"The introduction of the single rating system aims to equitably rate similar properties no matter where they are based in the Auckland region. The changes in rates are bringing this property into line with all other residential properties with a value of $4.7 million."
Mr McKenzie said that at the end of the three-year transition cap the council would consider options for ratepayers who had still not moved to their new rates.
"This may, or may not, involve an alternative transition process."
RECORD RATES?
* $4369.90 - old bill.
* $14,180.63 - new.
* 225 per cent rise
* The reason: Moving from land value to capital (improved) value.
By Bernard Orsman @BernardOrsman

Email

Bernard