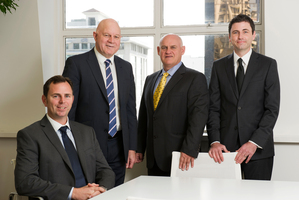 British real estate giant Savills, headquartered in London's fashionable Mayfair, has increased its fledgling New Zealand team with the recruitment of Steve Dunlop, former CBRE national director of valuation.
The company, with more than 500 offices throughout the world and listed on the London Stock Exchange, opened an Auckland office in the General Building at 33 Shortland St at the beginning of the year.
It is headed by former CBRE South Auckland managing director Paddy Callesen and Landplan property consultancy owner Doug Osborne.
Dunlop has joined Savills as a divisional director and will be assisted by another senior valuer, Dave Fraser, this month. The pair will specialise in providing valuations in the commercial, industrial and development sector.
"Having Steve Dunlop on board is a coup for us," says Callesen. "We didn't expect to get somebody of his calibre so early in the establishment of the business.
He is easily one of the country's best valuers and knows how to run a good business."
Dunlop says the time was right to make a shift to a start-up agency. "Although Savills is an international brand, it is relatively unknown in New Zealand and gives us the chance to create a firm with no baggage that concentrates on client service.
"The market has been crying out for choice and there has been a hole in options for clients."
He believes Savills brings more choice, better quality platforms and reporting from a client perspective.
Osborne says Savills made the decision to establish in New Zealand two years ago and he thinks it will be the last commercial property service provider that will be able to get a substantial foothold in New Zealand.
"Savills' valuation business started with networked global clients from the day we opened the door. We have the resources we need, the scope and a free hand to concentrate on building a business that is a successful and enjoyable place to work.
"We are off to a flying start, but we will not be resting on our laurels," says Dunlop. "I am under no illusion it is going to be a hard road to establishing a sizeable business that meets the needs of the New Zealand market."
Osborne says setting up a valuation arm at Savills comes as the market is turning. "We believe it has hit rock bottom and is slowly climbing out of the doldrums to a slightly more buoyant period."
Another new recruit is industrial leasing and sales specialist Jeremy Barnett, who has been involved with property since 2006. He started his career under Callesen at CBRE.
After three-and-a-half years concentrating on industrial sales and leasing predominantly in the Penrose area, Barnett decided to gain international experience in the Asian market. This led to a position within CBRE Singapore and a switch to office leasing.
After a year in the Singapore market, Barnett took up a position within the industrial team at Colliers International's Hong Kong office,
At the end of 18 months in Hong Kong, Barnett decided the Asian city was not a long-term option for his family and returned New Zealand and joined Savills to focus on his old stomping ground.
"I joined Savills because I wanted a challenge and to work with Paddy again. It is a start-up, a new brand in New Zealand and I wanted to work in a small team and help build the business."