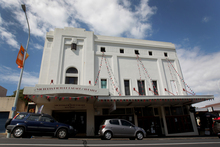 Big changes are being made at the Victoria Picture Palace and Theatre in Devonport.
The theatre's manager, John Davies, is leaving because the business has not succeeded.
"Sadly, after nearly two years it has become obvious that I can't make this cinema work," he wrote to patrons.
But the Victoria Theatre Trust, formed six years ago to save the venue, said it would remain open although probably with a revised format.
It is the Southern Hemisphere's oldest purpose-built cinema.
Trust co-chairpersons Margot McRae and Mark Sigglekow paid tribute to Mr Davies and said new management would be in place soon.
"This will be the culmination of an exhaustive expression-of-interest process that we began in March this year.
"The new operating team has some great ideas for the Vic ... They will continue with screenings of new-release films and documentaries but will also develop an educational programme with classes in theatre arts and film-making.
"And ... there will be a renewed focus on developing the Victoria into a thriving live venue for the whole community."
By Anne Gibson @Anne Gibson

Email

Anne