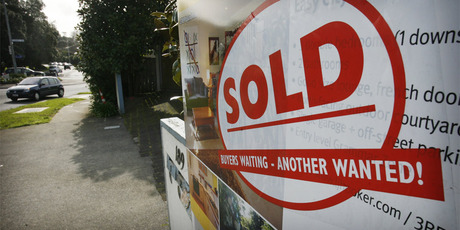 An influx of new properties helped ease pressure a little in the housing market over July, but sellers still have a firm upper hand.
New Zealand's property market steadied last month, as 9,411 new listings arrived on the market to make up for a falling winter inventory, according to data released today in the NZ Property Report.
The monthly report, compiled by Realestate.co.nz, showed that new listings in July were down slightly on a seasonally adjusted basis but were up 5 per cent on the same time last year.

High demand for property in June resulted in a record four-year low for inventory, said Alistair Helm, chief executive of Realestate.co.nz.
"Recent months have placed some stress on the market for buyers, with the shortage of new listings along with higher numbers of sales placing the market's favour firmly in sellers' hands," he said.
The new listings prevented a further drop but the inventory is still well below the long-term average.
"Sellers still clearly have the upper hand, but buyers do have some richer choices now."

Continuing hunger from buyers saw the asking price rise nearly 4 per cent from July 2011.
Led by record highs for asking prices in Canterbury, the national asking price reached $429,181.

New Zealand's three main centres all showed rises in asking prices, with Canterbury setting a new record at $393,433.
Auckland reported a 3 per cent increase and Wellington a 3.1 per cent rise.
"The clear signal from the July data was one of market stability, but whether that will persist remains to be seen," said Helm.
"However, as winter winds down in the coming month, buyers and sellers will no doubt increase their activity in anticipation of spring, which may shift the balance again."
By Ben Chapman-Smith

Email

Ben