306 VICTORIA AVE, REMUERA
SIZE:
Land 607sq m, house 246sq m.
PRICE INDICATION:
CV $2.1 million. Auction August 7.
INSPECT:
Sat/Sun 12-12.45pm.
SCHOOL ZONES:
Victoria Ave Primary, Remuera Intermediate, Epsom Girls Grammar and Auckland Grammar.
CONTACT:
Tony Morgan, ph 021 359 659 and Denise Champion, ph 021 275 1030, Unlimited Potential.
FEATURES:
Family home with pool at the cul-de-sac end of Victoria Ave, designed in 1960 by Vlad Cacala.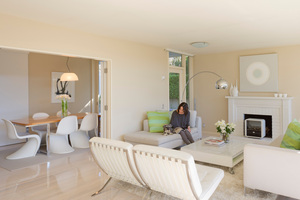 Megan Pausma had long admired the Modernist house she'd spied at the quiet end of Victoria Ave, noticing its clean, simple lines, painted cedar cladding and expansive glass. Then, several years ago she and husband Rudy and children, Christiaan (now 22) and Claudine (18), got the chance to make it their own, moving here from a villa in Parnell.
"I had noticed it and thought 'what a cool house'," she recalls. "And coming from a villa, I just thought it was so warm and light and so well-planned." Although she hadn't known the home's provenance, she and Rudy soon discovered more about its architect , Vlad Cacala (1926-2007). Rudy's father had known Cacala and the couple were contacted by keen architecture students wanting to visit. One of Cacala's four daughters, Vicki Wallace, says her father "loved the house and the way it was designed for a fabulous, north-facing site".
Known as the Kay house and built in 1960, its commissioning owners were Mortimer and Clara Kay, parents of former Auckland mayor Colin Kay. Colin's son, Tim, says his grandparents moved to Victoria Ave from a family home in Upland Rd.
Tim visited the house often as a child and recalls that in its original form it had two upstairs bedrooms and no internal access to a downstairs level, which was used for storage.
One of Tim's childhood memories is of one of his grandparents driving through the then open carport and accidentally nudging the car into the kitchen. The Kays sold the house in the late 1970s.
By the time the Pausmas bought the house in 2004, it had been altered, with internal stairs installed to the basement which then, as now, features two bedrooms, a bathroom, a good-size laundry, storage and a large rumpus room, which opens out to a 12m lap pool.
"It was exactly what we needed. It was really easy to move in here," says Megan. "The children needed space ... and there have been a lot of teenage parties in this downstairs living area."
Upstairs, the layout is largely the same as when the house was built, albeit the decor has changed over the years. Megan and Rudy lifted carpet and blonded the rimu floorboards and installed white roller blinds in the living areas. More recently, they added new kitchen appliances.
"The house flows so easily," observes Megan. Steps lead up from a secure gate beside the now closed-in carport to a grass courtyard next to the front door. In the courtyard is an iron sculpture made by Rudy, who owns a steelworks.
Inside the front door, the left of the glazed entry foyer leads to the (intact) kitchen and family living area, which opens on to a north-west facing deck. "We use out here an awful lot as it gets so much sun," Megan says. Through a slider from the family room is a dining room, which also opens to the deck. Further doors can link or separate the main living area, which has an open fireplace and full-height glazing, with access to the cantilevered balcony. The two bedrooms upstairs, which along with two bathrooms flow off the right side of the foyer, also have access to the balcony.
Megan says Christiaan, an architecture graduate, speaking to his mum from Germany the other day, mentioned how special the house is. "That's the thing," says Megan. "There are huge attachments to this house."
Just as Mortimer and Clara Kay built this house after no longer needing a big family home, Megan and Rudy find themselves with an emptying nest and realise it's time for somewhere different.