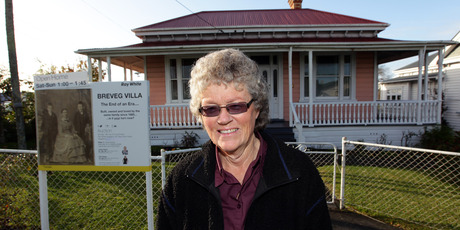 A house that has been in the same family since it was built in the 1800s is up for sale.
The square front villa on Auckland's Western Springs Road was one of the first homes built in an area that has gone from being in the backblocks to a popular city fringe suburb.
The four-bedroom house, Breveg Villa, was built in 1885 by James Young, who came to New Zealand in 1842 as a 10-year-old with his parents aboard the Jane Gifford.
Young and his wife Anna Breveg raised their family at the home, which has seen four generations of the Young family under its roof in the past 127 years.
The family originally owned 32ha of farmland - named Arch Hill after James Young's father's home town in Northern Ireland.
The farm stretched from what is now Great North Rd, down the gully used by the Northwestern Motorway, and up to Morningside.
The Arch Hill name is still used today.
The present owners of Breveg Villa, brother and sister Timothy and Susan Andersen, said the decision to sell had not been easy.
The pair grew up at the house with their parents Muriel Young and Paul Andersen. Their father died in 1996 and their mother died two years ago, just six months shy of her 100th birthday. "It was a tough decision but neither my brother nor I have children so we knew it was going to leave the family at some stage," Sue said.
"There are so many memories at the house, we have had it for four generations now."
In the backyard 21 fruit trees, planted over the years by the four generations, fill the fruit bowl and plenty of veges grow in the garden.
"It really was a self-sufficient time back then and whoever buys the house will get plenty from the garden," Sue said.
Estate agent Leslie Hawes said properties owned by the same family through generations were becoming rare. Interest in the house, with a CV of $920,000 and on 797sq m of land, was from people who wanted to renovate while retaining the original features.
Another house, at 71 Grange Rd in Mt Eden, is being marketed by the great-granddaughter of the original owner. It has been in the same family since it was built in the early 1900s.
Estate agent Fleur Ross said selling the house built for her great-grandparents was special.
"I have great memories staying in the school holidays and I know all the history of the house so it has been an easy one for me to market."
By Kirsty Wynn

Email

Kirsty