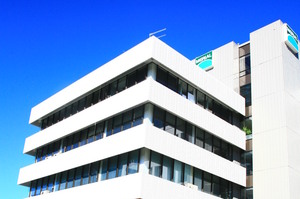 Nine tenancies and a return of $830,000 a year make five-level office block an impressive purchase.
Merial House, an office building in Manukau city's central commercial area on the northern corner of Putney and Osterley Ways, is for sale as a fully leased investment through Barfoot & Thompson and the recently established commercial agency Savills.
Savills' joint managing director Paddy Callesen says the 3802sq m building on a freehold 1039sq m site is a "rock solid investment" and prospective investors or private syndicators will be impressed by the quality of the property which is being sold by private treaty closing on June 21.
The five-level Merial House at 2 Osterley Way has nine tenancies, with a weighted average lease term of more than four years, returning net rent of about $830,000 a year.
It is close to the Auckland City Council building, and the Westfield shopping centre is immediately to the east.
It is at the central core of a commercial office park developed by Fletcher along Amersham Way, Davies Ave, Osterley and Putney Ways.
Merial House was built in the late 1970s and is among several multi-storey buildings constructed in the office park during the 1980s.
It was designed by architects and engineers Hoadley Budge & Partners and built by Fletcher Construction for NZI Insurance.
Despite its age, Callesen says Merial House is one of the few office buildings in Manukau that has been extensively refurbished and upgraded.
"It stands out as a well maintained, quality property among the cluster of low to medium rise buildings in the precinct."
The main entrance to Merial House is from Osterley Way through a newly refurbished entry featuring glazed doors and leading through to the building's lift lobby.
Callesen says some of the offices have been refurbished, and the amenities have been finished to a high standard on most floors.
Barfoot & Thompson broker Glen Hitchcock says the property's owners have spent a lot of money in the past three years replacing and modernising the heating, ventilation and air conditioning equipment as well as upgrading the building's services and systems, including two lifts, the building management system, roof and exterior painting.
"All of the main plant and equipment was replaced as a precaution to ensure the longevity and reliability of the system, rather than as a necessity."
Lettable floor areas in the building range from 703sq m on the ground floor to 798sq m on level four.
The basement has several storage areas and 26 car parks.
Additional outdoor parking is to the west of the building and is part of a larger parking area owned by Auckland Council. It is licensed to various buildings and Merial House has been allocated 36 car parks.
Callesen says the building has attracted lawyers, accountants, consultant engineers and a pharmaceutical company as tenants.
"If any of the tenants leave a new owner should have little trouble in leasing the vacant space as the majority of the tenancy floors have also been refurbished."
Tenants include the Public Trust, Kam Legal, engineering consultancy GHD, Legal Services, accountancy firm Hudson Kasper, animal health company Merial Ancare, accountants HAS 2010 and National Pacific Radio.
Callesen's colleague senior executive Kevin Richards says average rents for the building are below $200 per square metre, consistent with rents in the precinct, while the basement car parks rent at $40 a week each.
"Operating expenses are $66.70 a square metre and are similar to a number of other buildings in the office precinct."
Richards says the precinct faces competition from other emerging and established office hubs, although many of these are a considerable distance from Manukau city centre.
Callesen says recent changes in Manukau's roading networks and improved infrastructure have had a constructive effect on the area and continued infrastructure development will mean more growth.
A new train station is being built on the corner of Davies Ave and Manukau Station Rd on land previously part of Hayman Park, amd Manukau Institute of Technology is building a new $250 million, 65,000sq m campus in three stages.
Work has started on the $100 million first stage, and it it will be completed by the middle of next year.
Callesen says Auckland Transport is erecting a multi-level parking building on the corner of Ronwood Ave and Davies Ave for 680 vehicles.
"It is being constructed in the centre of the block to free up land leased for parking, so the site can be developed into commercial and retail buildings."
Auckland Council has also set aside $748 million in this year's budget for the Auckland Manukau Eastern Transport Initiative - a project to develop integrated transport infrastructure between Glen Innes and Manukau city centre.
Over the next decade, the council is planning on capital expenditure of $4.9 billion as it plans for a population of 1.74 million by 2022.
The council says the growth forecast implies 100,000 new dwellings and a 14 per cent growth in the floor areas covered by industrial and commercial businesses will be needed.
While the population is expected to grow at a steady rate over the next decade, the council's forecasts for property development show a slow recovery. Callesen says this means the council is facing pressure to invest in more infrastructure and services while the growth in its rating base through property development lags behind.
This makes opportunities to buy superior buildings, such as Merial House, a good investment while interest rates are low and there is still some growth in rents.