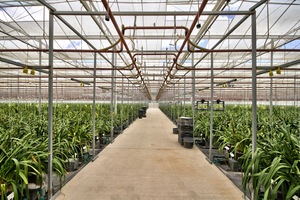 A high-quality cymbidium orchid business which could blossom into a larger operation is for sale in Waiuku, south of Auckland.
Florama Limited, at 79 Taurangaruru Rd, Waiuku, is one of New Zealand's largest and most innovative orchid growers, and has operated on the site since 2008, exporting to cut flower markets in Asia, USA, and Europe.
The company's high-tech glasshouse and distribution complex is on an 8ha site minutes from Waiuku township, and 25 minutes from Auckland's Southern Motorway.
It is being offered for sale as a freehold property and going-concern business by tender, closing on June 13. The sale is being handled by Ben Jameson and Peter Migounoff of Bayleys Counties.
Included in the sale is the Florama Limited business and brand and the company website, with a 16,800sq m glasshouse, an 1180sq m warehouse/packaging and administration block, and a 14 million litre water retention pond for irrigation and a coal-fired boiler.
Also included is an extensive list of assets and chattels associated with the business and growing operation.
Jameson says Florama has been operating from its state-of-the-art facility since 2008, but its overseas owners have decided that the business is now surplus to their requirements.
"This sale presents a great opportunity to purchase a business with an existing brand and clientele," he said.
Jameson says the facilities at Florama have been built to ensure flexibility should the owner wish to change the crop.
"The multi-purpose 16,500sq m glasshouse was built with a 5m stud height, giving it the versatility to be planted with different types of crops," he said.
"In addition, there is scope for the glasshouse to be expanded to around 50,000sq m, offering a significant upside opportunity through scale of efficiency."
Jameson says the temperature, irrigation, fertiliser, and humidity of the high-tech facility can be controlled offsite from a computer.
The glasshouse is heated by a coal-fired 3000kw boiler, and there is room for a second boiler if required. Heat transfer is conducted through a Dutch-engineered overhead pipe system which doubles as a trolley track for transporting cut stems to the processing section with minimal handling.
Other buildings include a 1000sq m packing shed and a 180sq m ancillary complex divided into four offices.
A detached 155sq m building houses the boiler, with additional space used for storage.
The business employs 13 permanent staff and three onsite managers.
"Florama Limited is run by a dedicated staff and management team and is a respected employer in the area with good employee retention record," Jameson says.