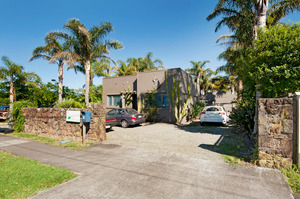 A multi-tenanted, palm tree-lined commercial and residential property in Takapuna is being offered for sale by negotiation.
It is being marketed through Christina Heaven and Giovanna Belling of Bayleys North Shore Commercial.
The property, at 7 Karaka St, has four buildings, the largest of which is tenanted by a business. The other three are used as residential premises. It has a residential 7 zoning, which is designed to provide a buffer between commercial and residential development.
The zoning gives owners considerable freedom to lease their premises to either tenant type, Heaven says.
The property produces a gross annual income of $84,800 a year, with the prospect of rental growth in the future given the popularity of the affluent area in which it is located.
"The property has always been easy to lease because of its location and flexible zoning. Given Auckland's looming housing shortage," Heaven says, "I can't see this property being vacant for long should any of its tenants decide to relocate.
The dwellings are solidly built in an attractive setting and are close to Takapuna Village and the beach, as well as Lake Pupuke." She says Bayleys North Shore Commercial often fields inquiries from professional practices and small businesses looking for premises such as 7 Karaka St on the fringe of Takapuna's CBD. "It is a very affordable way for a professional practice to operate and often preferable to an office tower block, which is less personal and where parking is more difficult.
"While neighbouring properties are mostly residential, a number of houses in the area are leased or owner-occupied by doctors, accountants, psychologists and similar commercial practices, and Waitemata Health tenants the large adjacent commercial property."
The front building at 97 Karaka St, which has its own access and parking for clients, is a 90sq m former residential bungalow converted into a commercial property.
It is occupied by Kiwi Semi-conductors, which has a two-year lease with rights of renewal. The New Zealand-based company is an innovator in analog IC technology, developing and supporting solutions for networked CCTV security systems.
The property is fully fenced and separate from the three residential dwellings, which are accessed by a separate driveway and have off-street parking outside the units.
These residences include two modern two-bedroom 50sq m units at the rear of the site, which were purpose-built six years ago and refurbished last year. Each is leased at $420 a week.
The remaining unit is a 47.5sq m one-bedroom flat leased for $310 a week.
Heaven says the 921sq m site has been extensively planted, making it a very attractive natural environment. There are separate cross-lease titles and the property is being offered for sale as one.
"A new owner could conceivably sell the buildings separately in the future if they wanted to. There could also be potential to develop the site more intensively in the future should there be a market-driven need for increased commercial or residential space on the fringe of Takapuna's CBD.
"Despite it being so close to central Takapuna and surrounded by mostly residential properties, it is actually quite a private property, which works well for the tenants who work and live there."