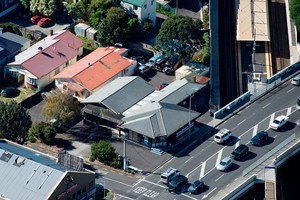 Investors are being offered the chance to purchase three properties in a busy, high-profile city location.
The sale of two adjoining Grafton city fringe properties, on mixed-use land at the corner of Khyber Pass Rd and Huntly Ave, presents an excellent purchasing opportunity for a buyer who recognises its long-term redevelopment value.
Two titles at 246 Khyber Pass Rd and 4 Huntly Ave are being offered as one parcel, along with a separate next door property, 6 Huntly Ave, on the market for the first time in 50 years.
Forming a combined 1435sq m of land area, the properties are part of Colliers International's latest National Portfolio and are offered through Colliers Auckland metropolitan sales brokers Jonathan Lynch and Charlie Oscroft. They will be auctioned at 11 am on June 13 at Colliers International, 151 Queen St, Auckland, unless they are sold prior to the sales date by private treaty.
John Bowring, Collier's national auction manager, says the properties offer affordable land holdings in a busy, high-profile location and as such should prove popular among buyers on auction day. "Taken together or separately, these properties are strategic development or investment holdings in a top location with regular transport links on the doorstep. They represent the type of Auckland metropolitan commercial stock which add-value buyers are looking for in today's market."
Lynch says the chance to purchase two neighbouring properties creates a prime opportunity to secure a corner site on a busy road in central Auckland and take advantage of mixed-use zoning.
"Auckland Council's mixed-use zone gives much flexibility for a future developer to add value to these properties, with many commercial uses possible and potentially, even residential development depending on consents."
He says the properties would also suit smaller owner-occupiers who wish to purchase just one property as an affordable way to access the benefits of a city fringe location.
"This location is highly suited to businesses that wish to be close to Newmarket, the central business district and transport links, without the significantly higher property costs of the CBD."
The corner site formed by 246 Khyber Pass Rd and 4 Huntly Ave has a land area of 929sq m. It is opposite St Peter's College and adjacent to the entrance to Grafton railway station.
The current tenant, Jansen Professional Audio & Lighting, occupies a 400sq m building on the site.
The property at 6 Huntly Ave is on the market following 50 years of owner-occupation and comprises a building of approximately 250sq m on a 522sq m site.
Oscroft says the previous occupiers, Hoskins and Rogerson Textiles, have moved, freeing up the strategic site for the market.
Like its neighbour, 6 Huntly Ave benefits from excellent transport links, with on and off-ramps to the State Highway 1 motorway just metres away, as is Khyber Pass Rd, a major arterial carrying an average of 15,000 cars daily between Newmarket and the city.
Purchased together, the three addresses present an excellent opportunity for future redvelopment, or bought individually they would be ideal candidates for add-value occupiers or investors. Auckland Council's mixed-use zoning permits a range of activities which do not have adverse impacts on the environment, meaning a variety of uses could be applied to the sites.
The activities permitted in the mixed-use zone are intended to enable a compatible and sustainable mix of residential and non-residential uses to develop. Childcare, education, entertainment, healthcare, offices, cultural activities, cafes, retail and residential are all allowed subject to the relevant consents being applied for, he says.
The location benefits from a strategic location between Newmarket and Grafton, with neighbouring facilities including the railway station, schools and retail, as well as the thriving healthcare sector centred around Grafton.