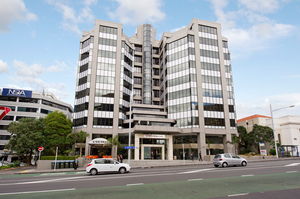 Housing the CallPlus Business Centre, one of the biggest commercial office blocks in Auckland's CBD fringe is for sale following extensive modernisation and refurbishment.
The imposing 10-storey building at 110 Symonds St has 8788sq m of office space leased to tenants returning an annual income of $2.3 million.
"Completed in 1988, the building is well designed and constructed and has stood the test of time," says Bayleys' Auckland executive director David Bayley who is marketing the property in an international tender campaign closing July 4 with commercial and industrial salesperson Gordon Gibson.
The commercial building is constructed of reinforced concrete columns and beams on reinforced concrete flooring and is A-grade rated under seismic strength regulations.
It has parking for 167 vehicles on three levels and sits on an 1852sq m rectangle of freehold land.
The building is designed around a figure-eight floor plan serviced by three elevators in the centre.
On each level the larger wing has a floor plan of about 602sq m while the smaller wing has around 324sq m.
Three power generators in the basement provide back-up power for the larger tenants and the tower's ducted air-conditioning unit recently underwent a $300,000 upgrade.
"All nine floors of commercial space, as well as the ground floor of retail space leased to Sierra Cafe, have been upgraded over the past six years," David Bayley says.
Sixteen tenancies from a diverse range of industries range from the head offices of a medical equipment manufacturer and an agri-chemicals firm, to an accountancy practice and an insurance brokerage with Call Plus the lead tenant.
Each of the nine floors of commercial occupancy has its own kitchenette and bathroom.
Bayley says with 50m of street frontage on one of Auckland's busiest arterial roads and rising prominently above neighbouring properties, the building has excellent naming rights exposure for current and future tenants.
"CallPlus Business Centre sits on a ridge on one of the most elevated points in the CBD.
"As a result, the views from the upper floors are expansive - from the Waitakere Ranges in the west out to the Waitemata Harbour and Rangitoto in the east," Bayley says.
"With such an imposing floor plan contained within one site, the building offers the potential to have a spread of tenancies or it could accommodate the head offices of one or two large corporates."
Gibson says the block is in a strategic location adjacent to the University of Auckland campus network, with links to State Highway 1 less than 100m away, and is on several main bus routes.