124 VICTORIA AVE, REMUERA
SIZE:
Land 1401sq m, house 282sq m.
PRICE INDICATION:
CV (July 2011) is $3.55 million and price indication is well in excess of that. Tender closes 4pm, May 10.
SCHOOL ZONES:
Victoria Avenue School, Remuera Intermediate, Auckland Grammar, Epsom Girls' Grammar.
CONTACT:
David Rainbow and Joneen Smith, Bayleys Remuera, ph 021 923 364 (David) and 021 464 557 (Joneen).
FEATURES:
Renovated three-level home styled along the lines of an American country home, with four living spaces including an open-plan rear living-dining-kitchen. On big, flat grounds with generous lawn, elegant gardens and rear pool, spa and cabana.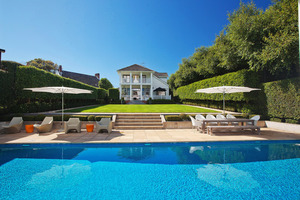 When TV personality Louise Wallace moves on from her family's home of 15 years she'll have strong memories of her children growing up here - and of some rip-roaring parties.
She and husband Scott (managing partner of advertising's DDB NZ) have evolved their property into a showcase of casual elegance. It's reminiscent of a fine American country home with its black and white exterior colour scheme, pillars and big rear porch.
"I think a house is always special to you when it's where you brought your children up," says Louise. Children Ashley, 20 and Guy, 17, were just young 'uns when they moved to this prestigiously zoned address. "We needed more space and, having children, we loved the fact this was a beautifully flat property."
The grounds include a big back lawn, which the kids used as a cricket pitch and soccer and rugby field. "And this house is the most sensational party house. We've had pre-balls for 100, sit-down black-tie dinners for 50 ...
lots of infamous parties." Louise could see the spacious home would entertain brilliantly right from their house-warming party, memorable for an enthusiastically dancing girlfriend falling over and landing in their wood-basket.
The home was built around the 1940s with modifications in the 60s and for some years belonged to a Remuera doctor. It was considerably different when the Wallaces bought it. Before they moved in they undertook a major rear extension which delivered great indoor-outdoor flow. The front triple-garage and large gas-heated pool, spa and cabana at the end of the backyard were added around 2006.
The home is set well back from the road behind a wall and neatly manicured front garden centring on an ornamental pear tree. A pergola entrance welcomes visitors into the three-level home. Louise describes her style as "homely elegance" and "a family home with character and style, and a home that's obviously loved".
The ground floor's living spaces are bolstered by a bathroom and laundry. Louise loves the cosiness and character of the "red room", a lounge-library with enclosed wood-burning fire. Red velvet curtains accent the formal dining room and lounge, warmed by a second fire.
She calls the media room "my brag room", as its walls display posters and magazine covers about her former roles as a current affairs journalist-presenter and on shows such as The Weakest Link and Celebrity Treasure Island.
Walking into the open-plan rear living-dining-kitchen, the striking view of the rear grounds, pool and cabana is revealed. "You can't visualise any of this from the road and I like that there's a bit of a 'wow' factor," says Louise. The kitchen spread features granite benches and a third fireplace and opens to a covered back porch. It's a sun-drenched spot for Louise to learn lines for upcoming roles. She's returning to Shortland Street as character Brooke Freeman's alcoholic-cougar mother and later this month will portray Eleanor of Aquitaine in The Pump House Theatre's The Lion in Winter.
Ragdoll Millie seems unconcerned by the whereabouts of her feline companion Mickey as she lazes in the sun in the mid-floor master suite with veranda, en suite and walk-in wardrobe accessing roof-cavity storage.
Upstairs are four bedrooms, one currently used as an office and a family bathroom.
Louise's friend, Stephanie Moynihan of Lasting Impressions, designed the gardens around Louise's fondness for pleached hedges and the layered look. The clipped rear garden leads down to the spa and pool."It's just absolute heaven swimming in that pool; it's deep, it's wide, it's my dream pool."
The cabana is effectively a self-contained cottage - its big lounge with TV to the pool - complete with kitchen and polished bathroom. "In summer the kids often have friends down the back sitting by the pool, jumping in and out of it, usually with music going. It's a great area because it means your kids want to be at home."
Ashley has left home to go to university in Melbourne and Guy envisages studying there, too. Louise admits she gets sentimental about moving on "but a three-storey house for two people is ridiculous". But she's confident leaving won't signal the end to her partying. "No, they'll just move into another phase."