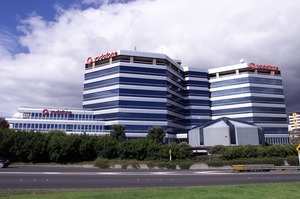 Christchurch landlord and earthquake-hit investor Miles Middleton paid $55 million for the ex-Vodafone, ex-Auckland Regional Council headquarters above Spaghetti Junction in Auckland.
Middleton took insurance proceeds from Christchurch buildings and poured them into the high-profile commercial investment, buying Beca House at 21 Pitt St.
His four Christchurch high-rises included the Westpac and DTZ buildings in the City Mall which have all been demolished and some time ago, he indicated he was considering investing insurance proceeds in either Auckland or Australia.
Kiwi Income Properties sold the block at a 2 per cent premium to the March valuation of $54 million. The deal reflected an initial yield of 8 per cent and settlement is due July 2. The sale was brokered by CB Richard Ellis.
Chris Dibble, Jones Lang LaSalle associate research director, said the deal showed the market turning.
"The investment sector is heating up as another $50 million-plus transaction is announced in a matter of weeks. The 8 per cent initial yield is quite firm which will be pleasing for Kiwi and their shareholders.
"This may lead to one of the strongest years of commercial real estate transactions which has been depressed since 2008," he said, predicting sales of about $1.5 billion of commercial office, retail and industrial real estate.
Shane Solly of Mint Asset Management praised Kiwi for "repositioning, leasing up the asset and achieving a positive sale price".
"It is encouraging to see New Zealand listed property securities sell mature assets giving them balance sheet flexibility to reinvest into other assets that increase long-term returns to investors.
"This is a significant transaction for the real estate market, supporting Auckland office valuations and the pricing of listed property securities," Solly said.
CBRE real estate agent Warren Hutt said he negotiated the off-market sale on Kiwi's behalf.
"Interest rates remain low and the major banks are continuing to be relatively aggressive in lending for property acquisitions, which has ensured that the current market sentiment remains upbeat. This has been underpinned by the positive outlook for the Auckland office market, given a lack of new supply and the continued decline in the CBD vacancy rate," he said.
The agency has buyer interest from domestic and overseas investors. European, Hong Kong and Asian buyers were seeking opportunities here, he said.
"We're also seeing strong interest from select European funds for assets priced in the vicinity of $60 million, while Australian funds and other investors remain net sellers," Hutt said.
BECA HOUSE
* 21 Pitt St, above the motorway.
* 10-level office building.
* Net lettable area 16,800sq m.
* Anchor tenant: Beca Corporate Holding.
* Beca has 14,400sq m.
* The nine-year lease started in 2010.
* Sold to Miles Middleton of Christchurch.