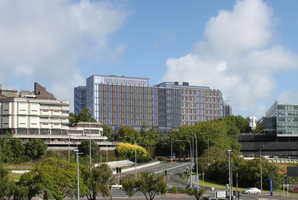 The University of Auckland is upgrading its engineering faculty in a $216 million project as part of its $1 billion decade-long property refurbishment and expansion.
The work at New Zealand's biggest university, with 39,000 students, is being led by Peter Fehl, director of property services.
The new project, announced today, will be nearly as big as the $240 million upgrade of the Grafton Campus' Faculty of Medical and Health Sciences which Fehl and his team finished last year.
Professor Michael Davies, dean of the engineering faculty, said the University Council approved the new project on April 16 and work would begin soon to create a new engineering research facility, new high-tech laboratories and expansion of an existing building.
Engineering buildings 403 and 404 at 20 Symonds St would be refurbished and extended by several floors, creating 5000sq m of extra space, Davies said.
This will allow the Departments of Electrical and Computer Engineering and Engineering Science to shift back to 20 Symonds St and free space for the Faculty of Science, where electrical and computer engineering is now.
The Ray Meyer Building at the Tamaki Innovation Campus will be refurbished and a new engineering research facility will be built next to it, providing an additional 5000sq m of space for large-scale research projects.
In the city, the upgrade would bring two departments back to the heart of the faculty, Davies said.
"This will strengthen the collegiality that has always been a strong feature of the faculty and encourage interdisciplinary research."