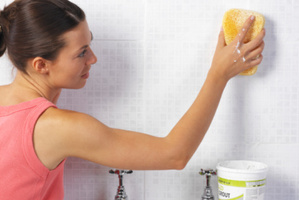 The issue of cleaning a rental property can give landlords and tenants nightmares.
If a property is kept in a dirty state, landlords see their investment deteriorating. Tenants, on the other hand, may be faced with a landlord who has unrealistically high cleaning standards. Landlords should always address cleanliness problems when they do inspections. It is better to ask a tenant to clean the property periodically rather than face an insurmountable job at the end of the tenancy.
It is not legal to make the presumption in the tenancy agreement that the tenants are going to leave the property in a poor state. That means it is not possible to insert a clause in the tenancy agreement that tenants will pay for cleaning at the end of the tenancy.
If the house is not left reasonably clean, however, the landlord is entitled to ask the tenants to pay for professional cleaning of the property, carpets and drapes.
Debbie Hills, team leader at Crockers Property Management Botany office, says tenants who want their bond back should "clean everything".
Hills has written a checklist for tenants. If dirt can be seen in a photo, says Hills, the property is not "reasonably clean".

Cleaning Check List - Inside:
-Oven - use a specialist oven cleaning product to remove grease and stains
-Sinks, benches, floors
-Rangehood and filter
-Cupboards - inside and out
-Internal windows, sills, curtains, blinds and drapes
-Bathroom - vanity, walls, ceiling, shower and curtain
-Remove marks on walls, dust skirting boards, clear cobwebs
-Toilet bowl, cistern and seat
-Carpets - cleaned
Cleaning Check List - Outside:
-Mow lawns
-Trim edges
-Weed gardens
-Dispose of all rubbish
-Empty bins - green garden, recycle and household
Miscellaneous:
-Arrange mail re-direct
-Replace dead light bulbs
-Driveway, carport, garage - oil-free
-Check chattels list, repair any damage
If a landlord is left with an unclean property at the end of a tenancy, it may be better to employ a professional cleaner than to do it yourself, as a Tenancy Tribunal is unlikely to order tenants to reimburse a landlord with money for their own labour. The Tribunal may, however, make an order that the professional cleaning costs can be deducted from the bond.