29 WEST END RD, HERNE BAY
SIZE:
Land 645sq m, house 205sq m.
PRICE INDICATION:
Recent sales in the street have ranged from $1 million to $1.8 million. Set sale date April 3.
INSPECT:
Sat/Sun 1-1.45pm.
SCHOOL ZONES:
Bayfield Primary, Ponsonby Intermediate, Western Springs College.
CONTACT:
Maria Salmon ph 027 2740573 or Patrick McCarthy ph 0272333988, Custom Residential.
FEATURES:
Spanish Mission-style home with a range of living areas, including formal lounge and separate dining; kitchen/family room openss to terraced north-facing gardens. Gas fired heating, two open fires. Garage with storage, workshop, cellar.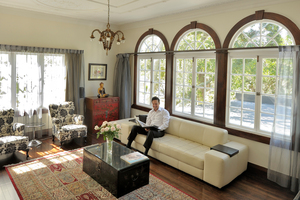 Owning a piece of built history comes with a sense of responsibility for Mark Henderson and Louise Nicholson.
Especially as their Spanish Mission-style home was in beautiful condition when they bought it 17 years ago. The previous owners told Mark that prominent Auckland architect William Gummer designed the home, although this is difficult to verify.
Gummer, along with partner Reginald Ford, is renowned for designing landmark buildings such as the Dilworth Building at the bottom of Queen St and the Auckland Railway Station. He also designed many Arts and Crafts-inspired homes as well as more classically styled residences. Whatever the provenance of 29 West End Rd, it has obviously been cherished.
"The previous owner had it for 30 years and it had been well looked after; it was immaculate and we felt that obligation to look after it as well because it is so unique," says Mark.
He was instantly struck by the home's charms - a relief for the real estate agent who had been driving him around all day looking at houses that didn't meet his expectations.
"As soon as we drove up I said, 'That's the one,"' recalls Mark of the home that was built around 1932.
And it's easy to see why when you come up the curving driveway to a home that has a sense of being an enclave, with crisp white plastered walls extending from the house to create a forecourt with a large garage at the rear. Here, the entrance is topped with a wrought-iron arch entwined with wisteria, while a doorway in the northern side of the wall offers enticing views down the side of the house of the rear garden.
Steps with wrought-iron railings take you up to the original, rustic-looking front door. Oak panelling is a feature of the foyer, something that Mark feels may be more typical of a bungalow of the times. Although he is not sure, he thinks this may be because the home was built for a banker, whose sober tastes couldn't completely embrace the Spanish Mission look.
However, that look is evident in the towering arched window on the stairway and the arched windows in the front lounge, the curves of which are mirrored in the room's ornate plaster ceiling. An open fire warms this room and backs on to another in the separate dining room that has an Art Deco hearth topped with a spectacular sunburst-style mirror that Mark says is staying because it suits the house - and is extremely heavy. "We've really enjoyed having a separate dining room," he says. "You get people in here with the fire going and they never want to leave."
The dining room, like other parts of the home, has beautiful built-in cabinets that add symmetry to the room.
Next to the dining room is the kitchen/family room that opens to the north-facing backyard. The sloping site was terraced using scoria boulders - again with a sense of timelessness in mind - after Mark took one too many tumbles down the bank while working in the garden. It's now a restful and private space with outdoor areas, fruit trees and vegetable gardens.
Upstairs, the home has three bedrooms, a bathroom and an office that Mark thinks was once a rooftop terrace that has long ago been closed in. The bathroom was recently renovated with the centrepiece being a large porthole window in a tiled wall.
Though he and Louise are planning a move to another home in the neighbourhood, Mark still remains in awe of the detailing and craftsmanship that went into the home.
"You couldn't build this place again - apart from the cost you just couldn't get these matai floors, the kauri and all the oak panelling."