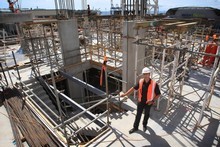 Brett Russell, an Auckland-based developer, builder and property investor, is one of many Quay Park building owners awaiting the outcome of valuation arbitration in the area.
Earlier this month, Ngati Whatua O Orakei Maori Trust Board entered a hearing over the value of the GE Building and BNZ in the area and Russell said the outcome could well determine leasehold land prices on other buildings in the 20ha area.
At issue is how much investors, owners, landlords and apartment dwellers pay annually in leasehold rents, set at 6 per cent of the land valued at its best, maximum use.
Russell, managing director of Russell Group, has built a number of blocks around the former Auckland Railway Station and his family-owned business Dominion Constructors is well under way on Eight Mahuhu, a $35 million eight-level office and retail building across the road from the Vector Arena where engineering design firm AECOM has taken most of the space.
Russell said his interests owned the retail areas in the nearby Arena Car Park and 17 units in the Quba apartment building next to Eight.
Leasehold payments on Eight Mahuhu alone could be $340,000 annually, set for seven years, but Russell said he had engaged registered valuers at Jones Lang LaSalle and CB Richard Ellis.
"Obviously I would like it if it is not reviewed. There's quite a big difference at the moment. We wanted to do a deal with the Ngatis early on," he said, referring to an offer for ground rent to be reviewed on a term longer than seven years in a trade-off for lower payments. Other lessees are understood to have set longer terms of around 25 to 30 years but Russell said attempts to lengthen the lease rent review term failed.
Russell's businesses include Acrow, Stresscrete, Russell Bricklayers, Aotea Paving and Masonry Concepts. The business was founded by Russell's father, Alf Russell, who passed away before Christmas.
Funding for Eight Mahuhu came from ANZ and the building was to be only six levels originally and was later changed to eight and Russell told how he faced a challenge against developing it from privately owned Manson TCLM. That fight was headed to the Environment Court although it did not proceed.
The leasehold on the site on the corner of Beach Rd has been owned variously by entities associated with private developers Matt and Jamie Peters, Russell said.
He dealt directly with financier Fortress to buy it but said the original resource consent created "a difficult building with floor plates too small. It was not marketable."
Christopher Beasleigh of Jones Lang LaSalle is leasing 1153sq m of retail on the ground floor which includes a 635sq m double-height showroom which might suit a furniture retailer, 93sq m bar, 57sq m lunch bar, 215sq m cafe and 141sq m shop, all due to open when the building is finished around September.
Chris Dibble, Jones Lang LaSalle's associate director research and consulting, said the building was one of a group rising around the CBD.
"Around 30,000sq m of new office space is available and coming online in the next 12 to 24 months, excluding Kiwi Income Property Trust's ASB development of 18,000sq m," he said.
Many new blocks are being developed by Manson TCLM, he said, naming 162 Vic in Victoria St, The Victoria Centre at 27 Napier St in the Victoria Quarter and the Nuffield Corporate Centre at 73 Remuera Rd.
Samson Corporation is also well advanced with the Andrew Patterson-designed Geyser Building at 100 Parnell Rd, Dibble said.
"Dominion have separated themselves from the speculatively led market competition by securing a superb anchor tenant, AECOM, a strong Fortune 500 company. The retail space is also a differentiator with a soon to be secured high-end cafe operator by Chris Beasleigh adding to the development's success. No doubt the vacant office and retail space is likely to receive strong inquiry once finished," Dibble said.
Russell said a private equity fund no longer owned Dominion. In 2006, Goldman Sachs JB Were's Hauraki Private Equity No 2 Fund bought 51 per cent of the family-owned business and said it would gear it up for expansion and the fund's existing investment in Acrow formed part of that group. But in 2009, the Russell family said they had bought back control.
"Given the significant change in market conditions over the past 12 months and the subsequent change in the business environment, the best course of action for the long-term success of Dominion Constructors and Acrow was for the Russell family and Mark Irvine, the managing director of Acrow, to realise the opportunity to reinvest in the two businesses in order to directly manage their future direction," Dominion said in 2009.
EIGHT MAHUHU
* 8-level block on Mahuhu Cres.
* Between Waldorf and Quba apartments.
* Construction up to level six.
* AECOM taking 5000sq m.
* Other floors yet to be leased.
* Offices $375/sq m-$400/sq m.
By Anne Gibson @Anne Gibson

Email

Anne