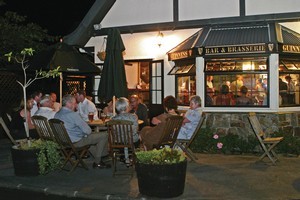 The Salty Dog Inn, an Old English-style pub in the heart of Snells Beach, at the centre of the Matakana Coast wine district, just an hour's drive north of Auckland, is being marketed for sale as a freehold going concern for $4.5 million by Murray Kidd at Affiliated Business Consultants.
Situated in 1ha of lush, landscaped grounds, the accommodation business comprises 12 deluxe studio units and two two-bedroom executive suites. All studios have super-king beds and self-contained kitchenette facilities. The two-bedroom suites also feature a spa bath and separate lounge and dining, and all units have balconies offering picturesque rural views.
The inn's restaurant is a formal area dedicated to fine dining, with an open fire and adjacent bar. It seats more than 100 diners, with the capacity to close off a private banquet area that will seat an extra 50.
The restaurant fare ranges from brasserie choices through to more formal meals, including breakfasts on weekends. The sports bar offers a more casual experience, with large-screen televisions screening sport via Sky TV, two pool tables and a jukebox.
There is a casual seated dining area to one side, bar leaners and a covered north-facing deck which is heated in winter to allow year-round al-fresco dining. In the gaming lounge, six machines are located adjacent to the bar.
"The Salty Dog Inn is often used as a benchmark for best practice within the gaming industry," Kidd says. The pub has Grade-A Guinness outlet status, while remaining a "free house".
Being an independent hotel with no contractual obligations allows a wide range of local and imported wines and beers to be sold in the lounge bar. "They have established key relationships with a variety of hospitality suppliers, allowing them to take advantage of changing market demands," Kidd says.
"This is an established hospitality venue with proven cash flows and profits. It is a stunning property with multiple revenue streams and a premier on-site manager's residence if required. It also has terrific potential for further development, including space for a micro-brewery and all the plumbing in place for a swimming pool."
Kidd says the added bonus of being able to offer accommodation allows corporate and function guests to stay onsite.
The concept of the hotel was first conceived in 1991, with construction commencing in 1993 and its launch in 1994. Further development of the land and construction of the first accommodation block began in 1996, with the second block being completed in 1997 to meet increasing demand. A new restaurant was also constructed and opened in 2003.
Additional development saw the purpose-built, state-of-the-art Tudor Room completed in 2008, which enabled a new tavern to be opened to cater to a growing local market.
"For the local volunteer fire brigade and the Kawau Bay Fishing club, the inn is like their clubhouse, while for many young couples the boutique-style hotel represents the start of married life, with wedding receptions being among many popular hospitality options on offer."
Club members comprise more than 400 regular customers.
The inn's multi-purpose venue is also used for conferences and as an events/function centre. It has been designed acoustically, with a fully integrated sound system; wireless internet connection; incorporated data projector and wide screen. It also has climate-controlled air conditioning; a self-contained private bar; restrooms and break-out areas. There is independent access from the carpark or through the hotel foyer.
"A dedicated, professional team manages every requirement for conference and corporate functions," Kidd says. "The Salty Dog Inn's team comprises 25 full-time, part-time and casual employees."
Live music is often featured in the sports bar, in addition to fishing-club and fire-brigade raffles.