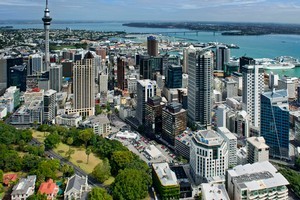 A discussion document on the future of the Auckland CBD is too anti-car and pro-pedestrian, a landlord boss says.
Property Council chief executive Connal Townsend said his group told the Auckland Council it was disappointed in plans for the city which took little account of economic reality.
Auckland needed to learn from the experience gained from previous proposals to make moves like pedestrianising Queen St.
"Auckland has already been through a significant project to upgrade Queen St which, although successful, created disruption to many businesses in the CBD. Pedestrian access needs to be weighed up against what is practical for the shops, cafes, restaurants and bars in Queen St.
"The Property Council is concerned at the low level and poor quality of consultation with key stakeholders in the preparation of the 'Towards Delivering An Auckland City Centre Masterplan' discussion document," it said in its submission.
But the Auckland Council's discussion document said Auckland needed to manage development better and have more of a pedestrian focus.
"In 2010 Jan Gehl, an expert in city transformation, undertook a pedestrian study of Auckland's city centre. His findings were that although significant success had been achieved with standout projects, such as Queen St, the Viaduct, Britomart, Vulcan Lane and St Patrick's Square, for Auckland to reach its full potential, a paradigm shift in thinking from streets as vehicle routes to streets as people places is needed to occur."