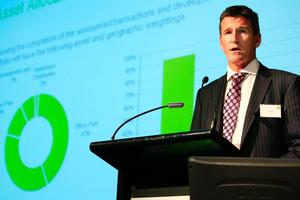 Listed industrial landlord Goodman Property Trust has improved its annual performance but issued a muted forecast.
The trust declared a net after-tax loss of $7 million, a big improvement on last year's $74.1 million loss. Pre-tax profit turned around from last year's $83.7 million loss to a $12.5 million profit for the year to March 31, 2010.
John Dakin, chief executive of Goodman (NZ), issued a flat forecast, citing rising interest costs, asset sales and projections of lower growth.
The trust which owns property valued at $1.5 billion, has a market capitalisation of over $800 million.
Dakin said portfolio value had declined 3.3 per cent, made up of a slight reduction in the value of the investment portfolio but a much larger one in the development portfolio.
Buffy Gill, research analyst at Goldman Sachs JBWere, said the result was slightly ahead of expectations.
Occupancy of Goodman's property portfolio increased from 95 to 96 per cent and the value of the trust's investment portfolio remained stable, she said.
The trust projected earnings per unit in the year to next March of 8.6c to 8.8c, she noted, mainly due to higher debt servicing costs and asset sales.
Before the annual result was issued, Gill had forecast next year's earnings to be nearer 8.9c.
Goldman has a "buy" recommendation on the trust's units and a 12-month target price of $1.15. Yesterday, Goodman closed down 1c at 98c.
Gill's overall view of the trust was that the annual result was in line with projections but that it had issued a lower earnings guidance for next year.
An institutional investor criticised Goodman's projected payout and said it was important investors remember that the trust specialised in an area of the real estate market which had been hard hit lately: suburban offices and warehouses.
Although some Goodman projects such as its huge Highbrook at East Tamaki looked glamorous and expensive, other large parts of its portfolio were more pedestrian, he said.
Dakin said the trust had leased 114,326sq m of space to new and existing customers. It had secured 28,900sq m of new development commitments at M20 Business Park and Highbrook and had an attractive weighted average lease term of 5.8 years.
The trust's gearing stands at 37 per cent, it has sold assets for $53.3 million in the past year and raised $150 million in bonds.