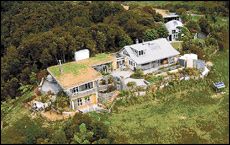 A house with a grass roof and breathable walls is not only eco-friendly, but also practical.
Bulls Road, Kerikeri.
It's quite obvious that Tony and Diane Achtzener became friends with neighbour Frederick Hundertwasser after they built their home but before they extended it.
They bought land next door to Hundertwassers' property in 1996 and built a timber cottage. They used macrocarpa in the construction so they could avoid using treated timber, while the interior walls were plastered with clay.
In 1998, after striking up a friendship with Austrian-born artist and architect Hundertwasser, famous for his Kawakawa toilet in New Zealand, they decided to extend their home and used a lot of his principles for inspiration. This wing not only has a grass roof and a breathable adobe brick wall but also features a lot of the trademark Hundertwasser asymmetry in the balustrades and the tiling of the floors.
"Hundertwasser was not only an inspiration to us but we became good friends," says Tony. "He invited us over to Vienna once and showed us all his buildings over there."
Tony and Diane left Germany almost 15 years ago to escape what they saw as a rat race.
Tony owned a restaurant and beer garden in Munich for 10 years before he and Diane decided to move to the Bay of Islands, a place where they had holidayed in the past.
"In 1991 we bought a waterfront farmlet in the Bay of Islands which had mainly water access. We enjoyed that opportunity to wean ourselves off the rat race life but after five years we felt that it was a bit isolated," Tony says.
"In 1996 we bought here. It was neglected farmland and mainly bush, but we liked that it was close to Kerikeri while still having plenty of peace and privacy."
The home they have built features a lot of recycled wood - tree trunks and limbs are used as posts, balustrades, pickets, gates and entranceways. The L-shaped house, which has two separate wings, may have a lot of rustic charm but is also practical - it has double-glazing throughout. Tony says the insulation supplied by the adobe walls is superb and the house is particularly toasty when they fire up their pizza oven.
The house is surrounded by gardens and flag-stoned courtyards and has beautiful views over Kerikeri. The Achtzeners used volcanic rock in the garden walls and in the arches "done in a ruins style" that frame the view.
Tony and Diane are separating but he is not planning on leaving the area. The 2ha of land with the house is being carved off a 110ha property. He plans to build another, more radical house on the remaining land.
"With all the lessons I've learned on this one, I think I'll do a better job next time," says Tony. "I would build smaller and simpler and live somewhere else so I can take a lot of time and build gradually."
Vital Statistics

BEDROOMS: 5
BATHROOMS: 2
GARAGE: 5
SIZE: Land 2.07ha, house 258sq m.
PRICE: $1.28 million.
INSPECT: By appointment.
CONTACT: Thomas Wahlmann, Ray White Botany Town Centre, ph 021 746 449 mob, 09 274 6447 a/h.
FEATURES: Elevated property with unrestricted views over Kerikeri, 6km away. Property also has a 120sq m garage/workshop with 45sq m loft bedroom, 60sq m implement shed, 30sq m wine cellar/larder. Independent solar/wind power. Three water tanks and artesian well water.
By Graham Hepburn