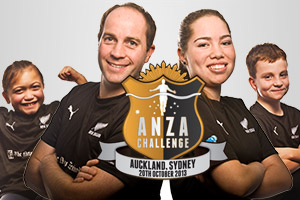 We have ten group entries, consisting of ten entries each, into The New Zealand Herald Schools 5km race to give away.
To nominate your school, fill in the form at the bottom of the page and tell us why they deserve to be part of this inaugral Trans-Tasman race for charity.
Entries close Monday, September 16, 2013.

WHAT IS THE CHALLENGE?
The ANZA Challenge is the first-ever trans-Tasman charity event where sporting greats and celebrities representing New Zealand and Australia race a gruelling 1300km around New Zealand.
The two national teams of Olympic, Commonwealth and World Champion athletes, sporting and media personalities will run, row, cycle and sail their way around New Zealand over 5 days.
Completing the journey, the New Zealand and Australian public will join the final stage of the ANZA Challenge in either the NZ Herald Schools 5km Race or the ANZA 10km Adults Race, held in Auckland and Sydney simultaneously.
All participants will wear their national colours and be chip timed. The combined times from the national race and the public races will determine which nation wins the ANZA Challenge.
So we need you to join the Challenge, pull on your national colours and run as fast as you can for your country and for charity!

WHAT IS IT IN AID OF?
This sporting showdown between New Zealand and Australia will fundraise for the Halberg Disability Sport Foundation in New Zealand and charities the McGrath Foundation and Lifestart in Australia. Their work makes a huge difference in our communities. Every dollar raised from entry fees and donations in the 5km (for school children) or 10km races will be distributed between these great charities to continue their incredible work. So get involved and help make a difference.

WHO IS PARTICIPATING?
Some of the greatest sports stars Australia and New Zealand have ever produced. Each country's team consists of 10 members who are Olympic, Commonwealth and World Champion athletes, sporting and media celebrities.
And of course YOU the Australian and New Zealand public - this is your chance to pull on the Gold or the Black and represent your country.

WHEN IS IT TAKING PLACE?
The Challenge starts in Wellington on Tuesday 15 October, heads to the South Island, and finishes on Sunday 20 October with simultaneous public runs in Auckland and Sydney. So join the race between nations for charity, places are limited!
The New Zealand Herald Schools 5km Race
Ages: 11-18
Venue: Auckland Domain
Time: 11:00am
Date: 20 October 2013
Entry: $45 for an individual or $35pp for school groups - 100% of your registration fee goes to Halberg Disability Sport Foundation to help more disabled young people experience the magic of sport.
To register visit www.anzachallenge.com or for school group information packs and bookings email schools@anzachallenge.com