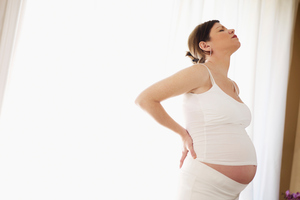 Exposure to even low levels of common air pollutants during pregnancy significantly increases the risk of babies being born small, according to a study.
The research, published in the Lancet Respiratory Medicine journal, found exposure to air pollutants increased the risk of babies being born weighing less than 2.5kg, and reduced their average head circumference.
The risk was even increased at pollution levels well below those deemed unsafe by the European Union.
Babies born with low birth weight are at greater risk of dying in infancy. Low weight has also been associated with asthma in childhood and decreased lung function in adults, while the circumference of a baby's head can affect brain development.
The study paid particular attention to fine particulate matter, invisible to the human eye. These carbon particles, known as PM 2.5s, are about one-30th the width of a human hair and are emitted from a variety of sources, including traffic fumes and industrial air pollutants.
Researchers estimate that for every increase of 5 micrograms per cubic metre in exposure to these particles during pregnancy, the risk of low birth weight rises by 18 per cent. Researchers said if levels of PM 2.5s were reduced to 10 micrograms per cubic metre, more than one in five cases of low birth weight deliveries could be prevented.
The EU annual air quality limit is 25 micrograms per cubic metre.
"Our findings suggest that a substantial proportion of cases of low birth weight at term could be prevented if urban air pollution, particularly fine particulate matter, was reduced," said lead author Dr Marie Pedersen, from the Centre for Research in Environmental Epidemiology in Spain. She added that in some countries air pollution could pose as great a risk to a baby's weight as a mother smoking during pregnancy.
The study pooled data from a dozen European countries and involved more than 74,000 women, who gave birth between 1994 and 2011. More than 10,000 of the women came from Bradford in Britain.
- Independent