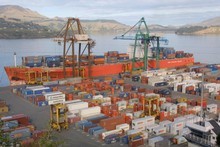 Lyttelton Port of Christchurch (LPC) has reported a 1.1 per cent fall in underlying earnings on a 5.3 per cent rise in container volumes.
The port reported net profit after tax fell 10.4 per cent to $9 million in the year to June 30.
But 60 per cent of this was achieved in the second half, which was up 21 per cent on a year ago.
Earnings before interest and tax of $29.2 million compared with $29.5 million last year. Revenue rose 3.4 per cent to $87.33 million.
- NZPA