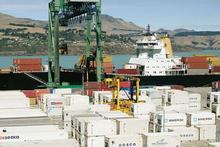 The NZX is believed to have reported council-owned Christchurch City Holdings to the Securities Commission over concerns about shares bought in Lyttelton Port in the lead up to Christmas.
Mike Daniel, the third largest shareholder in Lyttelton Port and former chairman of Northport, said he had spoken to the stock market regulator after CCH bought 45,500 shares between December 11 and 24.
Daniel said the trading had occurred after an independent report on a merger between Lyttelton and Otago Ports was received by Lyttelton Port.
Christchurch City Holdings owns 75 per cent of Lyttelton Port while Otago owns a further 15 per cent. CCH says its share buying procedures are "squeaky clean" and the claims are without foundation.
Daniel said he considered CCH to be an associated party of Lyttelton Port and should not be allowed to trade because it could have inside information on the potential merger. "I don't believe Christchurch City Holdings should be anywhere near that market."
Daniel said if there was any advantage in the merger it could push up the share price leaving those who sold to CCH missing out. "As far as I am concerned CCH are an associated party and should not be doing any trading."
Daniel said he believed the NZX had shared his concerns and reported it to the Securities Commission.
A spokeswoman for the NZX would not confirm its actions but said a situation such as the one outlined would fall within the Securities Commission jurisdiction and would be referred to them.
Christchurch City Holdings chief executive Bob Lineham said it had not been contacted by the NZX or the Securities Commission and the concerns were "totally without foundation".
"We have not seen the report. It has not been released to shareholders, we have not seen it. Our procedures are squeaky clean."
The company has been buying up shares over the past year to reduce the number of small shareholders and as part of a longer-term plan to delist the company from the stock exchange. "I think there would be more sales transactions from other shareholders in the last three months."
Lineham said the company, which is fully owned by the council, was particularly careful to ensure it was not in breach of the trading rules.
"We go through a process with our board and staff every month. They sign a certificate to say they have no knowledge about that. We have instructed the company not to tell us anything on it because we don't want to put ourselves at risk."
A Securities Commission spokesman said it did not normally comment on particular cases and could not confirm nor deny if it was investigating.
The independent report was commissioned by Lyttelton Port in October 2008 and carried out by Auckland consultancy Antipodes Capital.
Daniel said he had been told that the port company had received the report in early December but it wasn't until December 23 that the market was officially notified of it.
In a statement to the NZX, Lyttelton Port chairman Rodger Fisher said the report would not be released but an update on progress of the potential merger would be provided at its half year result in February. Shares in Lyttelton Port last traded at $2.40.
By Tamsyn Parker

Email

Tamsyn