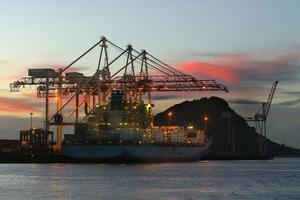 It seems increasingly likely that NZL Group's claim to set up a container terminal operation on Port of Tauranga land will be decided in the courtroom.
NZL, one of the country's leading transport and logistics companies, has delivered a formal letter to the port, asking for a terminal operator's licence.
Based on a 2004 contract, NZL believes it has the right to re-establish terminal operations at Sulphur Point - in effect competing with Port of Tauranga.
But the listed port company disputes the NZL claim.
"There are some rights they may have but we seem to be in disagreement over what those rights actually are," said port chairman, John Parker.
NZL, which has six business divisions including stevedoring and container transport/storage, believes it can re-establish a full terminal operation - similar to its activity at Sulphur Point prior to late 2004.
Port of Tauranga is saying NZL's role on the wharf was little more than container marshalling.
In its latest move, NZL has asked for another meeting and wants a response from the port by the end of this month.
"We want to work with the port, not against them," said NZL director Ken Harris. "We want to have some discussions and see what their timeframes are, and hope they match ours."
NZL, claiming it has backing from Ports of Auckland and shipping companies, wants to lease land and container cranes, and start its terminal operation in Tauranga early next year.
Harris said his company has prepared a thorough business plan.
"I'm confident we have a solid case. I'm sure the port is not thrilled. They have a very nice business (at Sulphur Point) and we pop along and want a chunk - it's not something they would welcome."
The plan NZL has shown the port company details its intended operations at Sulphur Point and the land and services it requires from the port - such as crane haulage, and "fair access" to the wharf and reefer points.
Harris said the port feels the matter could go to court. "If we are forced to proceed then we will have to sue for performance of contract. We have done background work on the validity of our legal case." NZL has asked local law firm Sharp Tudhope, and also Kensington Swan in Auckland, to do some preliminary work.
Parker said: "We don't believe they [NZL] have the rights they think they have, and if they want to test them then it needs to be done in court".
Parker said the port company was quite happy to meet NZL.
"We've never refused one yet."
- BAY OF PLENTY TIMES