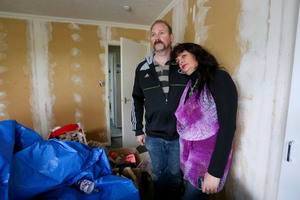 Karen and Scott Odell pose in their daughters' bedroom, which was contaminated by toxic paint during renovations in Whitby, Wellington. Photo / Hagen Hopkins
A toxic paint that sickened a woman and forced her and her family out of their home has been pulled from sale as officials investigate what is in the paint that made her ill.
Karen Odell, 46, says she is still suffering from the effects of the fumes from the Chinese brand Han Hu paint which she used to paint her daughter's bedroom at her Whitby home, north of Wellington, four weeks ago.
A strong chemical smell given off by the paint soon after they used it sent Mrs Odell, her husband and 15-year-old son to hospital suffering dizziness, headaches and a burning sensation in their airways.
Mrs Odell said the National Poisons Centre told her today that her symptoms - which include breathlessness and intense chest pain - could be the potentially fatal chemical pneumonitis, a lung inflammation caused by inhaling chemicals.
The Ministry of Business, Innovation and Employment (MBIE) said it was further testing the paint to determine the concentration of chemicals in it.
The paint was imported from China in April and distributed to six retailers in Auckland, Tauranga, Hamilton Rotorua, Wellington and Whangarei.
The ministry said 504 tins of the enamel paint - which has no safety instructions or ingredients listed on the packaging - had been brought into New Zealand.
The Odells bought their paint from Pete's Emporium in Porirua, but MBIE would not release the names of the other retailers who stocked the paint.
Two tins had been sold in Wellington, it said.
MBIE spokesman Britton Broun said the ministry was still investigating how much of the paint remained in public hands but said retailers had removed it from their shelves.
He advised people who had bought the paint not to use it and return it to the retailer for a refund.
Initial tests by the Institute of Environmental Science and Research revealed toxic compounds in the paint but it could be another few weeks before firm results are known.
"MBIE's next step is to determine the concentrations of the compounds identified in the preliminary testing, which will put us in a much better position to make an assessment of the toxicity of the paint,'' Mr Broun said.
Authorities are also investigating how the paint got into New Zealand, as hazardous substances such as paint must be approved by the Environmental Protection Agency (EPA) before being imported.
Mr Broun would not comment on whether the importer applied for approval or whether the EPA granted it, saying it was under investigation.
Mrs Odell, said she would seek further medical attention for her symptoms, which she said were getting worse.
The family has stripped all traces of the paint from the walls of their daughter's bedroom but say they still cannot live there.
"Everything in our house has been destroyed, and it is extremely devastating to go through,'' Mrs Odell said.
"We are so desperate to return home that it breaks my heart that we have nothing. The fumes in the house are as bad as the day we left.''
It could be months before they could move back in, she said.
An environment-friendly paint company, Paint Plus North Shore, has offered to supply the family with enough paint to redo the bedroom once it is habitable.