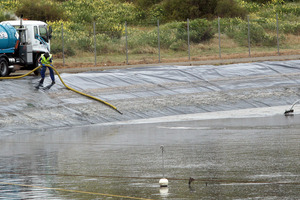 Lime will be spread over Wanganui's wastewater treatment ponds from today to try and stifle the foul odour coming from the plant and drifting across most of the city.
A stench has been coming from ponds off and on since they were commissioned in 2007 but since last month the extent and strength of the smell has multiplied.
Mark Hughes, council's infrastructure manager, said consultants from BTO Cardno had looked at alternatives and suggested adding the slurry to the ponds.
A similar exercise in Nelson had been successful.
"We had equipment on site today and workmen will begin mixing the slurry from about 7am tomorrow," Mr Hughes said yesterday.
The lime would cover the thick layer of sludge at the bottom of the ponds.
It was the sludge that was creating the foul-smelling hydrogen sulphide gases that were bubbling to the surface of the ponds.
Horizons Regional Council had served an abatement notice on council, giving it until February 7 to sort out of the odour problem.
There have been no reports of illnesses attributable to the stench but Wanganui's medical officer of health Patrick O'Connor said living with the smell day after day could be stressful.
Dr O'Connor said he had done a brief survey of Wanganui GPs and none of them had seen patients with illnesses attributable to the smell.
There have been anecdotal stories of people suffering sore throats and eyes and nausea due to the smell.
Dr O'Connor said that was possible, as some people are more susceptible than others to the irritant effects of the smell.
"For many people, the experience of living with an objectionable odour will be stressful, and foul odours can also induce feelings of nausea," Dr O'Connor said.
For more articles from this region, go to Wanganui Chronicle