National MP Aaron Gilmore has given a personal statement to Parliament, and said the media scrutiny he has been placed under prevented him from functioning properly as an MP. Mr Gilmore admitted he had been so angry he had wanted at times to exact utu. His voice wavered in what was an emotional personal statement. "Today I'm not surrendering, I'm retreating. I'm sorry I did not meet your expectations."
Latest NZH Video
Jacinda Ardern speaks at the 'Let's Talk to Labour' youth event.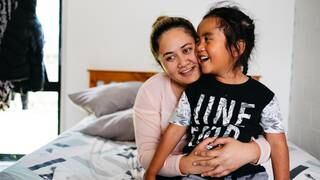 19 Aug, 2017 3:54pm
2 minutes to read
Exclusive: Compelling documentary challenges stereotypes around young mothers.
Protesters marching on Dunedin Hospital have forced Prime Minister Bill English and his entourage out a side door this afternoon. Source: ODT