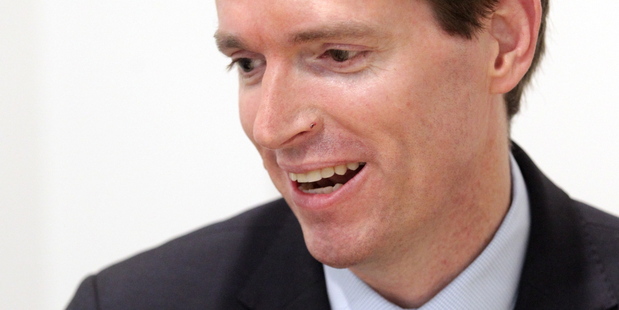 You have to sympathise with Colin Craig when it comes to his treatment in the media. For days leading up to last Sunday, the Conservative Party website was trumpeting a big announcement at its meeting in Epsom, or as we called it when I was growing up, "poor man's Remmers".
And did the media report the announcement? They did not. All they talked about was that Christine Rankin was going to stand in that electorate. Rankin is the party's chief executive, so her candidacy is a bit like getting the boss to come down to The Warehouse and do an hour at the sausage sizzle.
Craig has been a compelling performer in the campaign so far. How he manages to say so much using only one vowel is a constant source of amazement.
What passion he managed to wring from it when he spoke to a meeting of Grey Power members who looked like they'd passed even Winston Peters' use-by date. He dropped his Lochinver Station sale bombshell, displaying all the now-you'll-pay-attention-to-me self-importance of the Year 9 loner making capital out of the fact he saw two teachers kissing at the weekend.
For novices, Craig and his party have already learned a few important lessons, not least Keep It Simple. The Conservatives are pushing four key policies, including "one law to rule us all" and "referendums will be binding". I'm not sure whether they want to run New Zealand or Middle Earth.
Their slogan, "Stand for something", seems to be suggesting it doesn't matter what you stand for. We can worry about the detail after the election. Still, it stands out in what is proving to be a bumper year for vacuous slogans. Labour's "Vote positive" implies they would base running the country on its latest medical test results.
If you voted solely on entertainment value the Conservative Party would be able to govern in its own right. Its website is a work of genius, jam-packed with insight into how the party works. There's Rankin's newsletter with its yikes-the-boss-is-coming-to-dinner tone: "There is one thing that never changes at Conservative Party Headquarters. It's always busy — that is very busy, or extremely busy, there isn't much in-between."
There's a "Have you stopped beating your wife?" quiz to help you decide whether you should vote Conservative. "Traditions and heritage are of real value. — Agree/Disagree."
Then there are the policies. "1. Criminals must work and repay victims before they have their freedom. In the case of a murder they are of course working for life with proceeds going to the victim's family."
Opportunities for gainful employment in prisons being what they are, I look forward to hearing the details of how this will work.
But the highlight is Craig's own writing: "In Wellington they've always got some hairbrained scheme in mind to spend your money." Actually he means hare-brained, but never mind.
"Seems like only yesterday that the honourable member for Wainuiomata thought it might be a top idea to reincarnate the moa." Actually, he said clone the moa, but never mind.
"Einstein once defined insanity as doing the same old thing over and over, but expecting a different result," says Craig. Actually, Einstein never said that, but never mind. (I'm pretty sure that is the only time you'll see the names "Craig" and "Einstein" in the same sentence.)
Something Einstein did say that is of some relevance is: "People who fail to regard the truth seriously in small matters cannot be trusted in matters that are great."