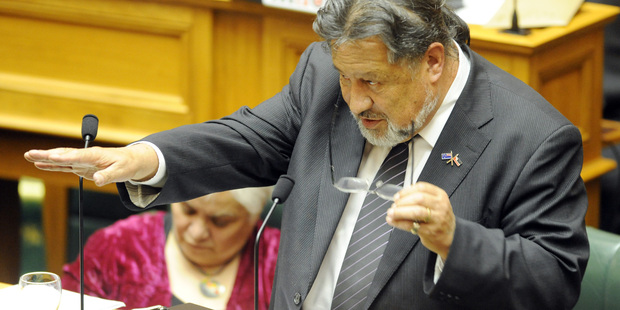 Maori Party founder Pita Sharples has defended the Maori Party's decision to go into government with National in his farewell speech as an MP.
Dr Sharples used his valedictory speech to say he still believed the Maori Party made the right decision, despite the cost to its support.
The public galleries were packed for the valedictories of Dr Sharples and his co-leader Tariana Turia as the founding co-leaders of the Maori Party in 2004.
He gave a quick run-through of the Maori Party's history, saying its original four MPs spent the first term in Parliament "sitting on the cross benches, we threw stones at everything Labour did. We didn't win anything, we didn't do anything but we made a lot of noise and we got a lot of press."
He said that earned the party five seats after the 2008 election "then we had a row and there were four, and the Mana Party."
He said the split with that lost MP, Mana leader Hone Harawira, and a campaign against the Maori Party's deal with National had taken its toll after that.
However, he said he still believed the best place to be was around the governing table where the party could secure the 'putea' [money] to make changes.
"It's not just about how loudly you can speak outside."
Dr Sharples said he was particularly fond of Finance Minister Bill English "with his cupboards of money." He said English had told him once about the approach the Maori Party took to getting that money out of him -- sending Mrs Turia in first to pull a guilt trip before sending in Dr Sharples to try the charm offensive. "And boom: out comes the chequebook."
He also thanked Treaty Minister Chris Finlayson for his work, and told some tales about Prime Minister John Key -- saying he had an "unusual sense of humour." He recalled the trials of the series of Waitangi Day powhiri Sharples had escorted him to -- from the year Sharples was pushed to the ground by protesters trying to get to Key and the 'Nanny Gate' year in which there was a standoff over who would escort Mr Key onto the marae.
He spoke of his achievements, including persuading National to sign the Declaration on Indigenous Peoples' Rights and introducing a new Maori language strategy.
He also joked about his relationship with Mrs Turia, saying they had known each other prior to the Foreshore and Seabed hikoi, but had spent the nine years since then "glued to the hip."
"It's quite an experience being glued to Tariana's hip."
He also joked about his notoriously high expenses, saying with the Crown cars and flights he could do five meetings in four cities in one day. He dobbed Te Ururoa Flavell in for wearing two right shoes out on the road one day.
"Nothing prepares you for life as a politician"
Labour MP and former Race Relations Conciliator Rajen Prasad also farewelled politics this afternoon, with a call for Parliament to better reflect New Zealand's increasing diversity, and also with a few flicks at the news media.
Mr Prasad who is of Fijian Indian descent spoke of the difficulties he experienced when he first arrived in New Zealand, telling Parliament he was only permitted to stay after the advocacy on his behalf of a number of prominent West Aucklanders. That included Freyberg School Principal Nigel Langstone who was present in Parliament this afternoon.
Mr Prasad had in turn during his career acted as an adjudicator in a number of immigration cases as well as his work as Race Relations Conciliator, Human Rights Commissioner and Chief Families Commissioner.
"But nothing prepares you for life as a politician.
"In the eyes of many I became useless, self-interested untrustworthy and just a bloody politician overnight. Such is the contempt in which we are held."
In part, that was down to the news media who "could do better to portray us more fairly".
"Instead politicians are fair game and we dare not reflexively pick our noses in public for fear that that might be reported in the wrong way as a negative action."
However the poor reputation Parliamentarians had was "neither accurate or deserved".
"I have the utmost respect for all my Parliamentary colleagues across the House."
He paid special tribute to National's Hamilton West MP Tim McIndoe, whose mother, he said, had chastised him for being mean to her son in Parliament.
"Mrs McIndoe, I'm speaking to you. I count your son as a friend? Tim is a perfect gentleman and on every occasion outside this House we act as friends."
On a more serious note Mr Prasad said he ethnic MPs were too often forced to play a "mainstream" role in politics and he believed it was time "for political parties to reflect in the business of the House the importance they play in the ethnic communities outside".
"Other than the celebration of Diwali, Chinese New Year with invited members of the public there is nothing that this Parliament does that reflects our growing ethnic diversity and the political challenges that entails."
In a wider sense New Zealand had to deal more effectively with increasing diversity.
Although current immigration settings were increasing diversity , "we have no plans about how we are growing the population base of our country".
"I believe the time has come for a proper conversation about our growing diversity, how big we want to grow to, how that should be determined, how we manage its implications and how do we engage with the communities that are affected."
In his closing remarks Mr Prasad revealed he had been appointed as special Commonwealth envoy to tiny Southern African republic Lesotho.
"I very much look forward to that role. The sense of purpose I came with to Parliament will now transfer to the sense of mission I feel about my next role."
War on drugs 'a total failure'
Labour MP, uncompromising battler for workers rights and former heroin addict Darien Fenton has called for a rethink of drug laws including decriminalisation of cannabis in her farewell speech to Parliament this evening.
Ms Fenton said that during her nine years as an MP technology had advance quickly, her family had experienced five deaths and the same number of births.
"But the extraordinary events that shook the parliament and our country to the core in recent years will always be with me."
They included the Christchurch earthquakes, "with the shocking and tragic death toll", the "needless" loss of 29 men at Pike River Mine which was "a disgraceful failure of deregulation" and the deaths of forestry workers.
"The death of more than one worker and countless injuries in our workplaces every week shames us all, but shames this parliament most."
Ms Fenton told Parliament of her family roots in the union movement including her Grandfather Frederick Frost who served as a Labour MP for New Plymouth during the 1940s.
"I know some people think I was born a devil beast trade unionist - but my apprenticeship to the labour movement and this parliament was forged in many different experiences, and some very tough jobs."
That included working as an extra in Bollywood films in Mumbai and for the Master of Armouries at the Tower of London.
With her "trouble making ancestry" it was inevitable that she was drawn to the anti-war and nuclear movements and "the remote influence of the hippie generation".
"It led me on a journey that was both good and bad. I dropped out of education, I had a range of interesting and boring jobs, I travelled to dangerous countries and did some silly things."
That included her drug addiction we she disclosed in a newspaper story earlier this year.
"It is still such a taboo topic, it was one of the hardest things I've done."
She said drug taking "was a means of defiance against the establishment and seemed cool at the time".
She said, "smoking a joint did not lead me to other drugs, criminals selling illegal drugs did".
"That's why I believe the war on drugs has been a total failure. It is time for this parliament to treat drug abuse as a health problem, not a criminal offence."
That meant properly funded addiction treatment, "and I believe it's time for politicians in this house to decriminalise personal marijuana use and take the crooks out of the business."
Ms Fenton said her recovery was helped by "treatment, a loving partner and the birth of our quite exceptional son Aish".
"I also found inspiration in the union movement where my rebellious heart could be turned towards something real and meaningful."
She said the union cause was "never been more important than it is today".
She noted that when her grandfather left Parliament, he returned to work in the Huntly mine.
"I won't be doing that, but I will be returning to the coalface. There's much to be done, and I've never sat back and left the hard struggles to others."