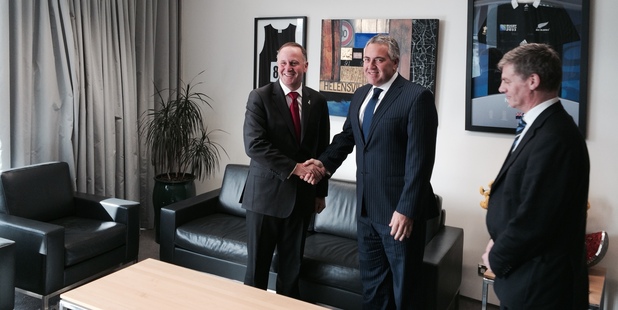 Mutual admiration and friendly banter was flowing as Australian Treasurer Joe Hockey and Finance Minister Bill English lunched together this afternoon but the pair offered scant hope of any progress on key trans- Tasman issues such as rights for Kiwi expats and mutual recognition of tax paid on company dividends.
Introducing Mr Hockey at a Trans-Tasman Business Council lunch in Wellington this afternoon, Mr English paid tribute to Mr Hockey's kiwi heritage, via his New Zealand born grandmother.
He also brought up rugby fan Mr Hockey's experience in packing down in the front row of an All Back scrum, albeit one composed of ageing ex-players Sean Fitzpatrick and David Kirk at Mr Kirk's 50th birthday four years ago.
Mr English went on to praise the sound management of the Australian economy by successive Governments.
That had created an income gap between the two countries and the Australian economy was a benchmark for New Zealand, he said.
But Mr Hockey returned the praise, saying "you guys are the benchmark for us''.
"You're delivering a surplus, I'm still at least four years away from a surplus. You've been able to undertake structural reform in your budget, welfare reform, taxation reform, we've still got to do it again in Australia.''
With the election now just two months away Mr Hockey steered into political territory with the less than subtle suggestion the centre right had the monopoly on sound economic management.
His Liberal Party was "leading the show in 2007, we were tossed out and then it went to cactus''.
"Are you getting my message here? I don't want to be overt about it. I just want to say to you don't take it for granted.
"I don't know if the other mob here are good or not. I met the opposition finance spokesman and he seemed like a very nice man, he certainly seemed intelligent, but never take prosperity for granted."
Meanwhile, although Mr Hockey has managed get the vexed long running issue of double taxation of dividends paid on trans-tasman shares - or mutual recognition of imputation credits - on the agenda for a forthcoming review of Australia's tax system, he offered little hope of a favourable outcome.
Mutual recognition would cost the Australian taxman $800 million, "and I haven't got it'' he said.
"So I'm not making any promises, as fond as I am of our friends in New Zealand, $800m is a lot of money every year.''
Mr English later told reporters New Zealand businesses had seen "discussion of this matter for 20 years''.
"At different times Australia's had different reasons not to agree. The New Zealand Government's always been willing to give up the revenue that would go with implementing mutual recognition of dividend imputation. No one's expecting significant progress in the near future because as they said they don't have the money.''
On kiwi expats' rights in Australia - the other big issue hanging over Mr Hockey's visit - Mr English said the Australian Treasurer "indicated a bit of goodwill that he'd be willing to consider some aspects of it but I don't think we could push it much further than that right now''.
"I think we got a genuine hearing but as we know it's a pretty intractable issue in Australia, they're under a lot of pressure on their Government finances, there may be a lot decisions that look to be unpopular with the Australian public so even getting a hearing I think was pretty good.''