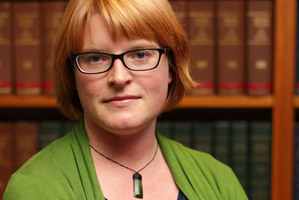 First-term Green MP Holly Walker has decided to withdraw from the party's list, effectively stepping down as a MP at the September election.
"Unfortunately, a recent unexpected change in my family life has made it very difficult for me to continue as a Green MP", Ms Walker said.
"Under these circumstances, I have chosen to put my family first and withdraw myself from the Green Party list."
Ms Walker, who will still contest the Hutt South seat in order to help the Greens' party vote, said she was announcing the decision with "real sadness".
She said she had been juggling being a mother with her work as an MP for the last six months.
"While I've had awesome support to do that from my caucus colleagues and from my party, we've had a recent additional challenging family circumstance and that has kind of tipped it over into, we think, impossible territory."
Ms Walker, 31, said she didn't want to go into detail about the family matter which had driven her decision.
"It's personal and I want to protect the privacy of my family but I can say we're all safe and well and it's essentially just a change that's caused us to reconsider our childcare arrangements and reconsider our priorities as a family."
Ms Walker said she would continue to be an active member of the Green Party and would not rule out a future move to return to Parliament.
"I would never say never."
She said she was appreciative of the support she received from her Green caucus colleagues and Speaker David Carter to enable her to resume her work as an MP since she returned to Parliament earlier this year following the birth of her daughter Esther in October.
She believed she could have continued as an MP if not for the additional family situation.
Green Co-leader Metiria Turei said the party was "really disappointed" by Ms Walker's decision.
The party had been "privileged" to have her as an MP, particularly due to her work to highlight child poverty issues as well as her lobbying disclosure and transparency work.
"We respect Holly's decision to put her family first. Parliament can be a tough place for young mums with the long hours and regular travel", Ms Turei said.
Next story - Bryce Edwards: What could go wrong for #TeamKey?