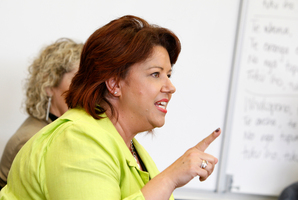 Social Development Minister Paula Bennett has released plans to restore some incentives for solo parents who take up full-time study.
She announced today that the Government would invest between $18 million and $24m over four years to align student support payments with welfare payments.
From mid-2015, a sole parent who begins full-time study will get the same amount of accommodation support as they do on a benefit.
At present, there is a disincentive for sole parents to take up full-time study because they no longer receive accommodation support as a student. The support is worth up to $165 a week.
It was estimated that 3000 more solo parents would take up full-time study in the first four years.
Mrs Bennett said sole parents with no qualifications spend an average of 17 years on welfare, compared to 7.5 years for a sole parent with a tertiary qualification.
The policy partly reversed changes made in welfare reforms last term, in which the Government scaled back access to the training incentive allowance. This was a controversial change at the time because Ms Bennett received the allowance when she was a solo mother.
The training incentive allowance, at current rates, is worth $106 a week.
As part of the new changes, the Government planned to allow sole parents to continue receiving child support while they claimed a temporary benefit during academic breaks.
It will also abolish a one- to two-week stand-down period for support which occurs when students begin their academic break.
The change to child support and the abolition of the stand-down period will require a law change, and won't be in place until the end of 2016.