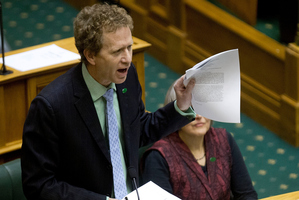 The Green Party are losing hope in the Emissions Trading Scheme, saying it has become a game for speculators, and may propose radical changes or even scrap it if elected this year.
Co-leader Russel Norman is expected to unveil new climate change policy at the party's annual conference tomorrow.
The party foreshadowed their new policy with a series of attacks on the ETS in the House this week.
Dr Norman said the scheme, which was designed to reduce New Zealand companies' carbon emissions, had now become a source of profit for big emitters.
Some in the party felt the ETS was irreparably broken and should be scrapped in favour of a more effective alternative which was more easily understood by the public. It is not yet known whether Greens will propose to strengthen the scheme or switch to an alternative.
Under the ETS, companies have to buy a carbon unit (around $5) to cover each tonne of pollution they emit.
In order to take the sting out of the scheme, Government gives heavier polluters up to 90 per cent of their units free of charge.
Greens' climate change spokesman Kennedy Graham said many companies used these free credits to rort the system.
They were selling their free units at market price ($5) and then buying cheap foreign carbon credits (between 10c and 40c) to cover their climate change obligations.
Dr Graham said some companies were believed to be making huge profits, while doing nothing to reduce emissions.
This loophole was closed for forestry companies in the Budget but remained a possibility for other polluters.
Climate Change Minister Tim Groser said companies could be expected to minimise their costs while meeting their climate change obligations.
Greens felt the "gaming" of the ETS was one of a number of problems with the scheme.
National had removed the requirement for farmers - who produce roughly half of New Zealand's emissions - to pay for their pollution.
Intensive polluters did not pay for 60 to 90 per cent of their units even if they did not reduce their pollution. And the price of carbon units had collapsed because of the trading of cheap foreign credits, which lowered the incentive to switch to low-carbon alternatives.
Greens supported the ETS when it was introduced in 2008. But the party would have preferred a carbon tax or a cap and trade scheme, which set mandatory limits on emissions.