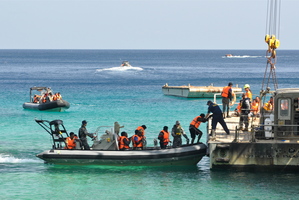 Prime Minister John Key said attempts by people smugglers to bring 50 asylum seekers by boat to New Zealand was not unexpected, and was confirmation of the Government's intelligence reporting.
He was responding to a Fairfax investigation into 50 asylum seekers from Afghanistan, Pakistan, India and Bangladesh who were trying to reach New Zealand by boat from Indonesia.
"It is of concern to us but it doesn't surprise the Government. For quite a while now we've been saying to New Zealanders there is a real risk here that we get a mass migration from boat people."
Mr Key said New Zealand was a location on smugglers' radar.
"There have been missions that have planned to come to New Zealand. Many of them have been disrupted and it's probably likely New Zealand is moving up the list of desirable locations."
He said while it was a difficult journey on treacherous water there was no question the landscape had changed with Australia now seen as "closed" and New Zealand as a possible alternative destination.
"I think they're now showing a renewed interest in other locations, and New Zealand is one of those."
Asylum seekers who arrive in large groups can be detained for up to six months under immigration laws changed by the Government last year.
Mr Key said he suspected the people smugglers understood the rules had tightened, but "they'll tell a very different message to those wanting to seek asylum".
"In reality these are desperate people who are looking for a better life, and so they'll want to believe the dream that somehow there would be easy access into New Zealand.
"In fact as we know, irrelevant of whether they're going to Australia, New Zealand or anywhere else, it's an extremely dangerous voyage. Many people have lost their lives, but all of that is underplayed."
Meanwhile a refugee centre for processing asylum seekers at Mangere in South Auckland was being improved, Mr Key said.