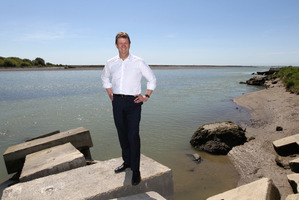 At first, Mallard was a bit like a smug Artful Dodger ... then he seemed to realise he'd been done out of a soapbox. Caught up in the match-fixing allegations swirling around former New Zealand cricket players, MPs took it upon themselves to embark on a spate of sledging with targets ranging from racehorses to the Speaker.
Prime Minister John Key took a break from David Cunliffe's poll results and Russel Norman's existence to sledging a horse he claimed was actually a donkey.
Key had belatedly declared this horse in the Register of Pecuniary Interests following questions over whether Winston Peters should have declared his racehorse. Key's biggest dilemma was apparently whether to declare it as a horse or a donkey after claiming "it would be more correctly referred to as a donkey than a horse". Said horse had subsequently moved to Noumea to hang its head in shame.
Affronted horses cannot take defamation lawsuits. MPs, on the other hand, have been given a stern warning that Twitter can result in defamation suits and the ire of the Speaker.
For years MPs have used Twitter as an adjunct to parliamentary debate, an opportunity for those who don't have the microphone on to chatter among themselves, abuse each other and generally air their views on what is happening to their followers, both fair and foul.
In an odd way it has probably added to the order of the House. MPs are so busy on Twitter they forget to heckle. Many also save their best lines for Twitter, rather than hollering them out. They then get the ego boost of people re-tweeting or favouriting their witticisms - a service Hansard does not offer.
Nonetheless, all it took was one rather dramatic tweet about the Speaker being a "Mafia don" by Labour's Twitter-happy Trevor Mallard to make the Leader of the House Gerry Brownlee realise the medium existed and call foul. Brownlee is a self-confessed technophobe. He is first to admit he is not one to put the smart into smartphone. The only Twitter account that has anything to do with him is the parody @BigGerryB account, which can be rather amusing.
The Speaker has now referred Twitter to the privileges committee, which is charged with deciding whether the rules of Parliament require changing to cater for "new technology".
At first, Mallard was a bit like a smug Artful Dodger - he'd picked the Speaker's pocket, got away with it and was mighty proud of himself. He was at pains to point out he was not the subject of the complaint. However, then he seemed to realise he'd been done out of a soapbox. He tweeted with some disappointment that his escape was only because Brownlee had not raised it in the right fashion to put Mallard himself up before the committee. "Useless Nats," he tweeted. "Your lot forgot to complain."
Brownlee's complaint had referred to the general issue of the use of Twitter to denigrate the Speaker rather than naming Mallard. Brownlee may not know much about Twitter, but he clearly does know about the perils of creating a martyr. He knows Mallard is more than capable of milking such situations. And Brownlee is on the privileges committee which will consider this weighty matter.
Parliament exists under a set of detailed rules, mostly aimed at two key principles: that Parliament be its own master, and the maintenance of order. The Speaker is the linchpin of those.
Mallard has long made it his job to make the Speaker's life a misery. Sometimes he has just cause; often he is shying at shadows. Mallard appears to view being ejected from Parliament as a kind of Olympic sport for parliamentarians - and he can be competitive about it. He was the first MP to be ejected from Parliament by Lockwood Smith back in May 2009. He was also the first MP to be ejected by David Carter in March 2013, alongside his associate spokesman, Chris Hipkins, for peeving off the Speaker. On another occasion when he disagreed with the Speaker's decision about Peter Dunne's status in Parliament, he walked out in protest rather than trying to be kicked out.
This week, Mallard justified his criticism of Carter by sanctifying Carter's predecessor, Smith, saying Smith was fair and even-handed but Carter was well off the pace. Those who recalled similar spats between Smith and Mallard wondered if Mallard was referring to the same Saint Lockwood whom Mallard once threatened to lodge a motion of no confidence over after Smith kicked him out for saying Key's nose was growing - a reference to fibbing. He had stormed out of the House, banging his folders and hollering "outrageous" and "that's the worse decision you have ever made".
To be fair, Mallard did have sufficient respect for Smith to second his nomination to be Speaker for a second term after the 2011 election - primarily because Smith started to demand ministers attempt to provide meaningful answers to Opposition questions.
Mallard has made his view on the matter of Twitter clear. He does not believe any change is needed. He claims the rules already cover such situations and if the Speaker can't handle the criticism, he can do what every other MP can do, which is to take a complaint about a tweeter to the privileges committee to deal with.
It is almost as if Mallard is trying to goad the Speaker into doing just that. So far he has had to content himself with tweeting a thank-you to the Speaker (who hasn't touched his Twitter account since January) for boosting his follower numbers by his ruling. There is a further bright side for him. If Labour's fortunes fall the right way in four months' time, there is a chance Mallard could be the Speaker dealing with whatever the privileges committee comes up with.
It might help Mallard meet his ambition if he turned his focus from battling the Speaker through often-petty points of order to battling Labour's actual political opponents on the other side of the House.