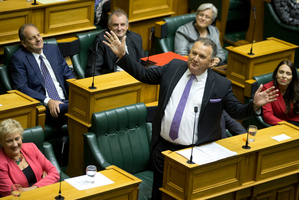 Labour MP Shane Jones has signed off from Parliament this afternoon.
"It's an emotional day," he told a mostly full House and a packed public gallery at his valedictory speech.
"I have lived, breathed, I have had every bit of my being putting myself either willingly or unwillingly in the front of our people."
Mr Jones covered everything in his valedictory speech from his battles with the Green Party to his dealings with Bill Liu and his use of taxpayer money to watch porn in a hotel.

Referring to the porn scandal, he gave advice to his replacement Kelvin Davis: "Know this from me, cash is king, brother."
He added: "It didn't cover me with a great deal of glory. But know this, I never ever ran [from media].
"Whenever I was in the gun, I fronted up."
Mr Jones had earlier promised to depart with a few "barbs".
He described broadcaster Willie Jackson as the "Maori equivalent of Pam Corkery"and former colleague John Tamihere as "Labour's number one exile".
The MP also washed his hands of Labour's hugely controversial policy to regulate showerheads and water pressure.
"I never agreed with Helen ... I knew I was in a dire situation when the only person who came to my rescue was [former Green co-leader] Jeanette Fitzsimmons.
"In those days, the Greens were my fans."
He spoke of his upbringing in Awanui, the son of father who had been one of 17 children and had a great respect for the Maori language and the Anglican Church.
After his return from Harvard University and work with fisheries company Sealords, he was inspired him to become "a pro-industry man"in Parliament.
"I would be a politician who exhausted every part of his being to generate wealth, to generate jobs ..."
He joked that the presence of former Act MPs Roger Douglas and Richard Prebble in the public gallery possibly reflected his right-leaning politics.
Mr Jones thanked former Prime Minister Helen Clark for enticing him into Parliament.
But he questioned her insistence that he increase his door-knocking activities early in his career.
"I have had nine years and I like it no more today. I was a big-picture man."
He concluded: "To those who have shown me love, to those who feel I may have dashed their aspirations by not being quite the person that you want me to be ... you've honoured me by turning up today.
"This is me, I'm out."
The speech was followed by a waiata in the public gallery.
Mr Jones is leaving Parliament to become a Pacific Economic Ambassador, a new role created by Foreign Affairs Minister Murray McCully.